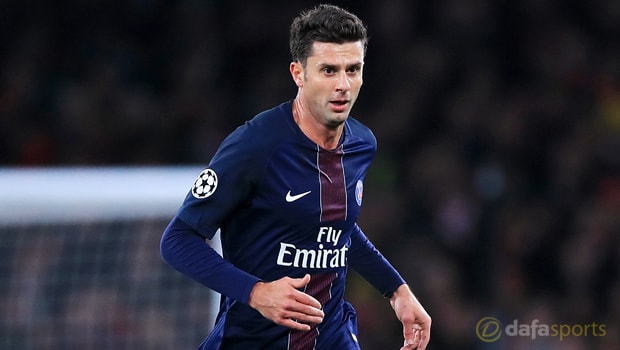 Veteran midfielder Thiago Motta is set to extend his stay at Paris St-Germain despite offers from other clubs, his agent has said.
The 34-year-old Italy international's contract with the Parisian outfit is set to expire at the end of this month.
The capital club are known to have offered Motta a one-year extension and while the player is expected to take the option, no deal has yet been signed.
Motta's agent, Alessandro Canovi, says there have been no shortage of offers for his services from elsewhere but he expects that the player will stay in the French capital.
"There is a harmony between us and the club," said Canovi. "I do not think there will be major difficulties in extending. Unless there is a major surprise, we will sign.
"We are not short of offers for Thiago, but they have not really been considered because he is very happy in Paris."
Motta, PSG's vice-captain, is apparently set to move into a coaching role at the Parc des Princes when his playing days come to an end.
The Ligue 1 club endured something of a frustrating season last term, finishing eight points adrift of Monaco in second spot domestically, ending their hopes of a fifth straight title win.
In Europe, their quest for Champions League glory came to grief in astonishing fashion.
They defeated Barcelona 4-0 in their last-16 first leg clash in France only to collapse in the closing stages of the second leg in the Catalan capital in a remarkable 6-1 defeat that meant Unai Emery's side crashed out.
Paris St-Germain are 15.00 to win the Champions League next season.
Leave a comment