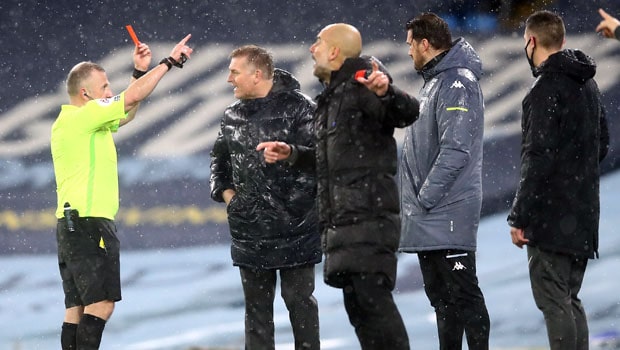 Following a controversy in a recent matchup between Manchester City and Aston Villa, the Premier League sent a statement to all of its professional clubs of a change in how referees will interpret the offsides rule.
Officials from the league stated the rule change was to allow "the spirit and intention of the law is best reflected in decision-making going forwards."
"Where a player in an offside position immediately impacts on an opponent who has deliberately played the ball, the match officials shall prioritize challenging an opponent for the ball, and thus the offense of 'interfering with an opponent by impacting on the opponent's ability to play the ball' shall be penalized," the league said in the statement.
This is stemming from a largely controversial Man City goal vs Villa. According to the rules we've all gotten accustomed to, the on-field referees were correct in letting the goal stand. The new rule, however, would add some doubt to that.
One thing is clear, though. The league, and its officials, better be ready to apply this updated rule to each and every future situation.
Rules should not be altered to suit certain teams atop the standings.
"The offside situation in the recent match between Manchester City and Aston Villa has generated significant debate and discussion within the game," the league added in regards to the situation. "The general consensus was that Rodri gained an unfair advantage in being able to challenge Tyrone Mings in starting from an offside position, immediately after Mings had chested the ball. Professional Game Match Officials Limited (PGMOL) have subsequently discussed this incident with both the International Football Association Board (IFAB) and UEFA to consider how to act in the best interests of the game in future situations of this type, ensuring that the spirit and intention of the Law is best reflected in decision-making going forwards."
Leave a comment