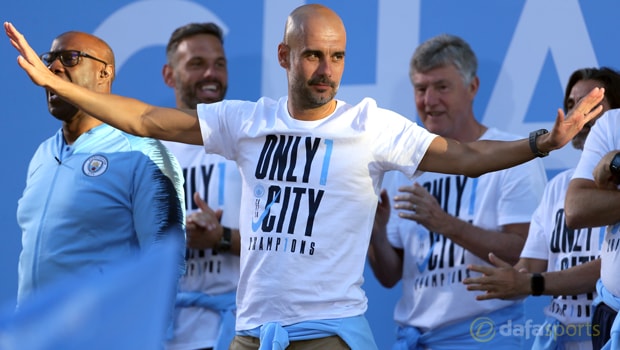 Pep Guardiola has vowed to make Manchester City even stronger in the future after inking a contract extension that ties him to the club until 2021.
The Spaniard had only one year left to run on his previous deal which he signed upon arrival from Bayern Munich in June 2016.
The newly crowned Premier League champions have wasted little time in ensuring their manager is secure in his position. The contract extension means his deal with City is the longest commitment Guardiola has made to a club since starting his managerial career in 2008.
He spent four years in charge at Barcelona. After a trophy-less first season in English football, Guardiola guided Man City to the Premier League and League Cup double this term.
In doing so, they broke multiple records and became the first team to breach 100 points in England's top flight. The City boss is delighted to have committed the next phase of his career to Man City.
"I am so happy and excited. It's a pleasure to work here," he said.
"I enjoy working with our players every day and we will try to do our best together in the coming years. As a manager, you have to feel good to be with the players – and I feel good."
With a young squad at his disposal and talent bursting from the seams at the Etihad, Guardiola has no doubts that things can only get better for the club.
"I will focus on the desire of my players to become a better team and every day that's what I will try to do – to improve on the pitch and improve our players," added Guardiola.
"We have a young squad with an average age of 23 and we want to keep taking steps forward and maintain the levels we've achieved this season."
Manchester City are 1.67 to retain the Premier League title next season.
Leave a comment