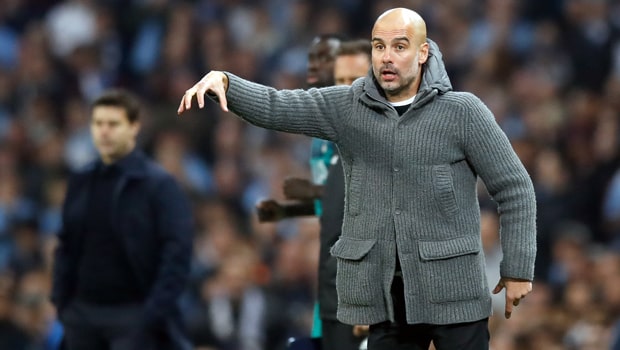 Pep Guardiola felt Manchester City's exit from the Champions League on away goals to Tottenham was "cruel" as he rued a VAR decision that went again them.
The Citizens' hopes of winning four trophies this season went up in smoke despite a dramatic 4-3 win over Spurs at the Etihad Stadium, with the visitors edging the verdict courtesy of their 1-0 win in London last week and three away goals.
Raheem Sterling had a goal disallowed in stoppage time at the end – correctly – although Spurs' decisive goal from Fernando Llorente on 75 minutes also had some controversy to it.
Sterling had fired City ahead on three minutes, only for Son Heung-min's quick-fire brace to turn things around.
Bernardo Silva levelled at 2-2 and, by 21 minutes, Sterling scored again to complete a whirlwind start.
City hit the front in the tie for the first time when Sergio Aguero scored on 59 minutes before Llorente bundled the ball home from a corner on 75 minutes to give Spurs the edge on away goals.
Despite Sterling finding the net in stoppage time, Mauricio Pochettino's team held on to prevail on away goals. "It is cruel, but it is what it is and we have to accept it," said Guardiola.
"I am so proud of the players and the fans. I have never heard noise like that since I have been in Manchester but football is unpredictable.
"Unfortunately, it was a bad end for us, so congratulations to Tottenham and good luck for the semi-finals." With Aguero shown to be offside before he teed up Sterling in stoppage time, the City boss had no qualms about the late strike being ruled out.
Guardiola backs VAR although he queried why the referee didn't get to view the behind-the-goal angle, which showed the ball brushing Llorente's hand before it was turned in off his thigh.
"I support VAR but maybe from one angle Fernando Llorente's goal is handball, maybe from the referee's angle it is not," he added.
Spurs are now 4.50 to win the Champions League, with semi-final opponents Ajax at 5.50. Barcelona, favourites at 2.50 to lift the trophy, face Liverpool in other last-four tie.
Leave a comment