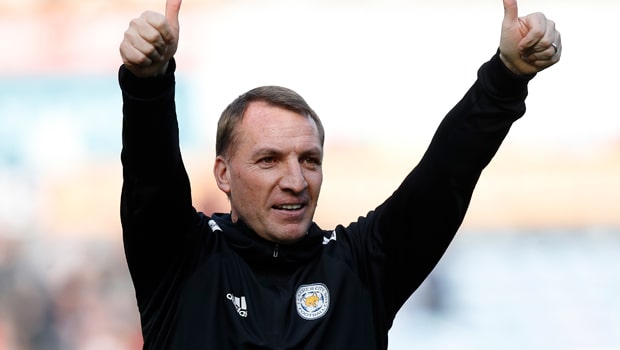 Brendan Rodgers says his Leicester City squad will be ready to go in late July should they be faced with European qualifiers.
The Foxes are currently in seventh spot in the Premier League with four games remaining.
Holding their position would earn them a place in the Europa League qualifiers should Manchester City defeat Watford in the FA Cup final at Wembley next month.
Leicester still have four tough matches, against West Ham, Arsenal, Man City and Chelsea, ahead of them as they jostle with Wolves, Everton and the Hornets in the battle for seventh spot.
A potential Europa League campaign would being at the second qualifying round phase, with their first competitive match of the new campaign on July 25, but that wouldn't concern Rodgers.
He has experience with previous club Celtic of coming through summer schedules and, while there are pitfalls, he suggests Leicester have already factored in the possibility.
Rodgers said: "(An early start) won't affect us so much because if you start training at the end of June or beginning of July, you can still arrive after three-and-half weeks in a good place physically. "You're never going to be perfect.
That's something I've learned from experience with Champions League qualification games and Europa League (with Celtic), you're never in your best place physically."
The main drawback for Leicester in that scenario would be drawing opponents from a league where summer football prevails, such as Scandinavia or the Baltics.
"Some of these teams that are in qualification, they're in season," Rodgers said. "I remember playing Astana, they were 22 games into their season.
"If you play Rosenborg, they're well into their season, so they've got a really good level of fitness. We'll be physically prepared as can be, if that is a possibility."
Leicester are 2.30 to win away at West Ham on Saturday. The Hammers are 3.10 and the draw is 3.50.
Leave a comment