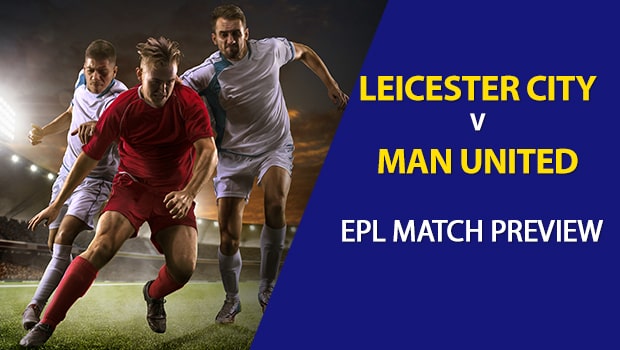 Leicester City vs Manchester United
Premier League action continues this weekend as Manchester United hits the road for a much-needed win as they face Leicester City.
Let's take a closer look at where the value is at in this matchup.
Team to Win (Regular Time)
• Manchester United: 1.81
• Draw: 3.85
• Leicester City: 4.56
Spread
• Manchester United -1: 2.47
• Leicester City +1: 1.62
Total
• Over 2.5, 3: 1.83
• Under 2.5, 3: 2.08
Draw: There's a 25.9 percent chance this match ends in a draw. That happens in a similar percentage of simulations, suggesting no added value on the pick.
The projected score is 1.8 – 1.29, in favor of Manchester United.
Start to the Season: After a convincing 4-0 win vs Chelsea to start the season, United has struggled mightily. They've had two draws and a loss since then. Leicester City is coming off a 3-1 win over Bournemouth their last time out.
Must Improve at Home: Looking back into last season, Leicester must improve their performances at home. They have just 14 points in their last 11 home fixtures.
Head to Head: These two sides last matched up in Premier League action on Feb. 3, 2019 when United won, 1-0.
Jamie Vardy has a 40-to-41 percent chance to score for Leicester City. He averages 1.68 shots overall per sim, 0.84 shots on goal per and 0.51 goals per sim.
Marcus Rashford has a 38-plus percent chance to score for Man U. He averages three-plus shots overall per sim, 1.32 shots on goal per and 0.49 goals per sim.
Leicester City +1
Four-star (out of four) hot-trend pick here. All the side/added value from simulations is on Leicester to be far more competitive than offshore picks indicate. Leicester +1 has a 62 percent chance of happening according to picks. Leicester either wins or finishes in a draw in 52+ percent of sims, and lose the remaining games by a margin of 0.51 goals.
Make sure to check all other MLB, NFL, NCAA, NHL, NBA and soccer game predictions from AccuScore.

Leave a comment