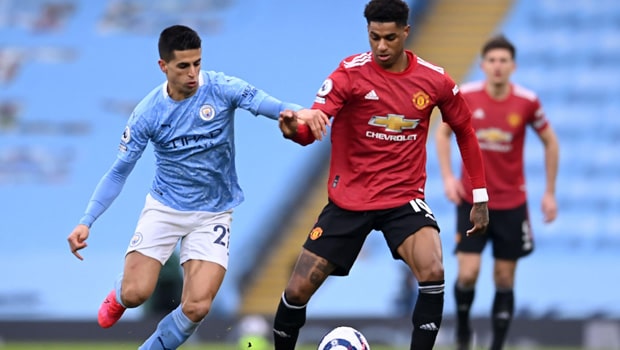 A penalty awarded within the first minute of Saturday's derby clash between Manchester City and Manchester United opened the way for a 2-0 United win that ended a historic 21-win streak from City. City now sit 11 points ahead of United who are in the No. 2 spot of the Premier League table.
"We played good, apart from the first 10 minutes, and unfortunately we could not be clinical, and congratulations United," City manager Pep Guardiola said after the match. "Today we lost, and it will be the news. But the news is 21 victories in a row. This is the news. This result is going to help us a lot to understand how difficult it is. We knew it. But sometimes you have to not win one game to realize, and the next one is important. There's still a lot of games to play. We have to start to win again, and the next game we have an opportunity to do it."
United's unbeaten road streak is now up to 22.
"They're too far ahead to think we can catch them," United manager Ole Gunnar Solskjaer added when asked about the PL table.
United dominated the second half with Luke Shaw and Marcus Rashford forcing City defenders to react seemingly every other minute. Shaw found the bottom corner after he and Rashford drove down the left side in a one-two punch that resulted in the second goal of the match.
City dominated possession 65-35, but managed just one more shot on target vs United. City even had six corners compared to just two for United.
"They are really good on the ball, they defend well, they are tough to play against," United's Bruno Fernandes said. "But today we do almost everything perfect, and the result is the most important. For now it's not about winning against City, it's about performing well from now to the end of the season and trying to win every game. Scoring in the first minute is perfect because we have more space to counter, but against Tottenham we started with a penalty in the first minute and we lost the game. If we focus every game until the end of the season, for sure we will win every game."
United's victory allowed them to move past Leicester in the standings; United with 28 games played, goal differential of +23 with 54 points on the season so far while Leicester has +16 goal differential and 53 points on the season with 10 matches remaining in the 2020-2021 campaign.
United are back in action next weekend vs West Ham. City get set for a mid-week match vs Southampton.
Leave a comment