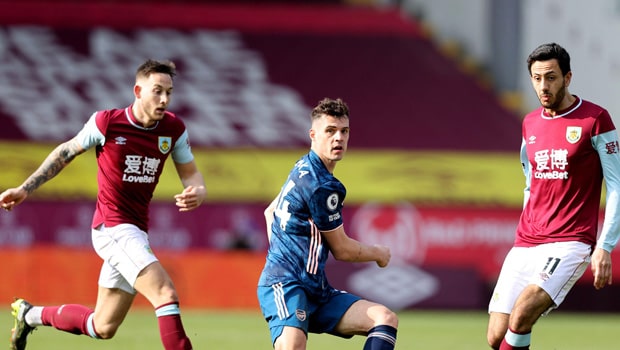 Arsenal were unable to get the win and three points Saturday as some above-average defense from Burnley, help from the VAR and a late mistake allowed for a 1-1 draw after 90 minutes. This was Burnley's fifth-straight draw, placing them seven points clear of the relegation zone. Arsenal remain in the 10th spot in the table.
Pierre-Emerick Aubameyang put Arsenal on the board by the sixth minute as Arsenal looked to be moving the ball around with tremendous ease to start the match. They had another chance in the 22nd minute that saw the side of the net.
The focus of the post-match discussion was around the mistake of the pass from Granit Xhaka that hit Chris Wood for a Burnley equalizer. Arsenal had their hopes up after it looked like a penalty was awarded against Erik Peters; VAR overturned the call.
"I think it's obvious and clear, I think there is no debate about it," Arsenal manager Mikel Arteta said after the match. "If that's not a penalty then someone should explain what a penalty is in this league."
Arsenal won the possession battle 37-43, but managed just two shots on target.
Wood now has 22 goals at Turf Moor in the Premier League – the most of any player.
"I thought they were outstanding the way they kept going after Arsenal," Burnley manager Sean Dyche said after the match to BT Sports. "That's what VAR's for, it's for those exact moments."
Burnley's defense stood out in the second half as they held off a late push from the Gunners.
"We had to work very hard against a decent Arsenal side but the mentality of the players was outstanding," Dyche added. "It is a third game in a week and the physical side of the game was tremendous."
Leave a comment