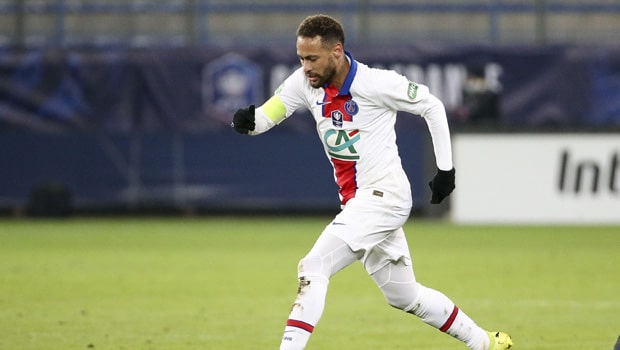 French Ligue 1 champions PSG has been given an injury boost as Neymar could return to action against his former club, Barcelona, in the Champions League's return leg.
Le Parisiens had already won the first leg at the Camp Nou 4-1, with Kylian Mbappe scoring a hat trick.
The Brazilian superstar who sat out the Coupe De France clash on Saturday against Brest is now back in training.
Neymar got injured in his adductor during a 1-0 victory against Caen in the French Cup on February 10.
Having failed to face the Catalan club in the first leg, Neymar could now return to action against Barca in the midweek.
Neymar was involved in the first-team training with the rest of the squad on Sunday morning.
Speaking ahead of his return, PSG coach Mauricio Pochettino delivered a positive update on his condition. The Argentine expressed happiness with his development, adding that he will monitor his fitness in the days to come.
Since joining PSG from Barca for a world-record €222 million (£191m/$264m) fee in 2017, Neymar has been a key player for them. The Brazilian has played a key role in the club's latest bid for silverware across multiple fronts, taking them to the Champions League final last season, losing to eventual champions Bayern Munich 1-0.
He has continued to struggle with niggling injuries, and getting back to full fitness has proved a difficult task for him. Despite his absence, this season, the Brazil international has managed to score 13 goals and assisted 16 in 18 games across all competitions this season.
Meanwhile, Barca has a mountain to climb against the Parc des Princes outfit in the match. They will need to score four unreplied goals to have a chance of qualifying for the Champions League quarter-finals. It will therefore be a disaster if the host conceded three goals in their backyard without scoring.
It could be recalled that PSG had blown up a 4-0 aggregate lead against Barca at the same stage in 2016-17. Time will tell if this will happen to them again.
Leave a comment