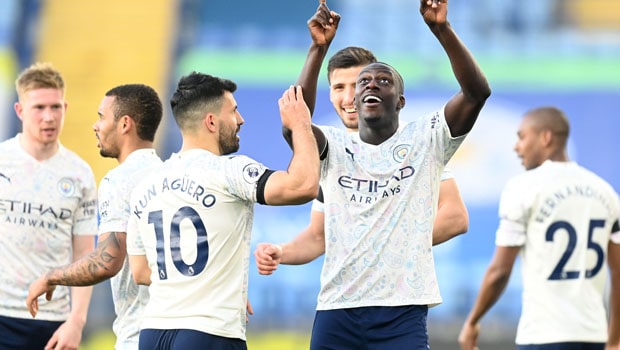 Manchester City made it nine straight road Premier League victories this weekend as they recorded a 2-0 win vs Leicester City at King Power Stadium. The score was tied 0-0 at the break, but City took control of possession in the second half with goals from Benjamin Mendy and Gabriel Jesus.
City, now with 31 matches played and 74 points on the table, need 11 points to win the Premier League title. The loss kept Leicester City in the No. 3 spot with eight matches remaining in the season.
"Mendy is incredibly beloved by all of us; especially by his teammates, all of us," City manager Pep Guardiola said. "He's a special person. The way he lives we know, but he has an incredible heart. And when a player is honest like he is, the people love him so much. He didn't play much recently and today he played and made an incredible goal. The manager must be so good because he scored a goal with his right foot! Oh my god!"
Mendy made it 1-0 in the 58th minute before Jesus sealed it for the side in the 74th minute.
Leicester City looked to take the lead right before halftime with what looked like a goal from Jamie Vardy. It was ruled out, offside.
Vardy's touches, or potentially lack thereof, did seem counter-productive. Credit to poor strategy on offense, or strong defense?
He had just 14 touches this weekend vs Manchester City after playing a full 90 minutes. No other outfielder who played the full match had fewer than 42 touches. The only other time in his career he played 90 minutes and had fewer touches was in April 2018, a defeat vs Crystal Palace.
Leicester was without defender Caglar Soyuncu who remained in coronavirus protocol after he tested positive for the virus after a match for his country, Turkey.
"He is good and feeling fine and we will go through the process seeing when he can be back," Brendan Rodgers, Leicester City's coach, said.
Manchester City have a big week as they face Borussia Dortmund in leg 1 of 2 of UEFA Champions League quarter-finals before a league match vs Leeds United on April 10.
Leave a comment