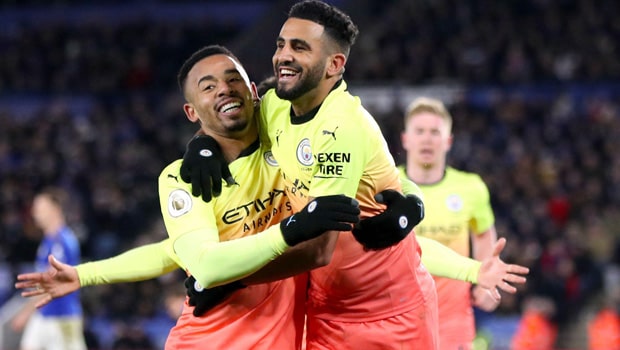 Manchester City put together a rout of a performance to close out the match vs Wolverhampton as they recorded their 21st straight win behind goas from Gabriel Jesus and Riyad Mahrez. City are now 15 points clear atop the Premier League table.
City manager, Pep Guardiola, however didn't seem content. At least just yet.
"There are 33 points to play for – to win the Premier League we need more points," Guardiola said. "Manchester United. That's all we care [about now]. Tomorrow our opponents will play, we have one or two days off and then prepare."
21 straight wins; 28 straight results unbeaten.
The score was even at 1-1 at the 80th minute. Two late goals from Jesus, and one by Mahrez – in what felt like a blink of an eye – put the match out of reach.
"The record, we will talk about in the future," he said when asked about his team's ability to perform during a tough schedule. "In winter time – November, December, January in England – it is hell."
Wolves were able to capitalize following a Rodri foul on João Moutinho to yield a free kick.
"Players felt it was unfair after what had happened," Guardiola added. "But it's a good lesson for the knock-out games as good players can punish you."
City dominated possession, 73-27, with 10 shots on target compared to just one for the opposition.
"It is difficult to execute your game-plan against Man City," Nuno Espírito Santo, head coach of Wolverhampton, said after the match.
Leave a comment