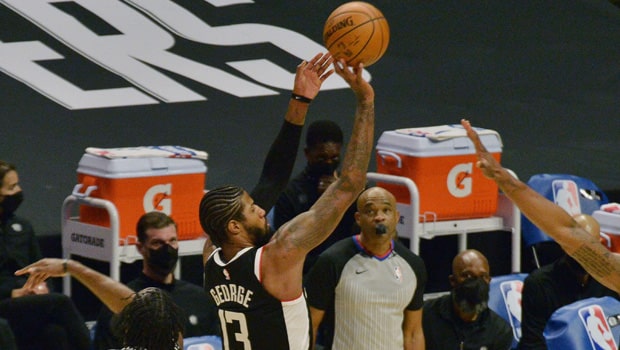 Clippers star forward Paul George reflected on the influence that Kobe Bryant had in his career. George, in his second year with the Clippers, was named a 2021 NBA All-Star as he's been playing with a chip on his shoulder after his disappointing performance in last year's playoffs. PG13 is averaging 23.7 points, 6.1 rebounds and 5.2 assists in 33.5 minutes over 27 games this season. George explained his admiration for Kobe:
"He was my Michael Jordan. Growing up as a SoCal kid, he was what everybody, every kid wanted to be here. I started playing basketball because of Kobe. I attacked the game the way he played both ends. I took so much things away from him, and he made a big impression on me as a kid, just about how to go about playing the game. I credit everything, aside from God-given talent, I credit everything else from him."
Kobe Bryant is possibly one of the greatest NBA players of all-time and the greatest Laker ever. Two jersey numbers in the rafters at the STAPLES Center prove it. Kobe was able to take over games in ways that not many players could.
His drive to win at any cost helped him succeed on and off the court. An 18-time NBA All-Star, five-time NBA champion and one-time NBA MVP, Kobe tragically passed away on January 26, 2020.
Eduardo Solano, from FOX Sports Radio 1340 AM Hopewell and AccuScore, wrote this about Kobe Bryant recently:
"I've always been a Chicago Bulls fan but I followed Kobe Bryant's entire career! Kobe is one of my favorite athletes of all-time and I still can't process that he is gone."
Leave a comment