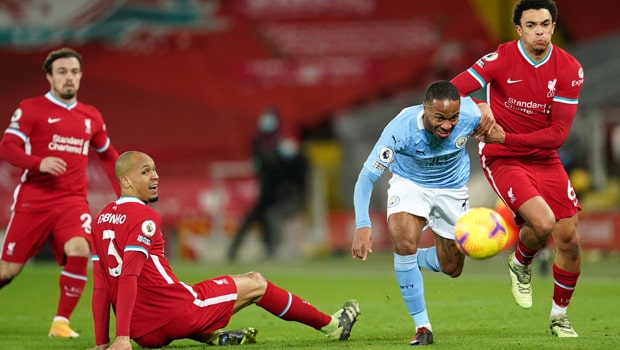 Manchester City, sitting atop the Premier League standings, extended their lead as they won, 4-1, at Anfield vs Liverpool for the first time since 2003. City are now at 15-5-2 on the season compared to 11-7-5 for Liverpool. City now have a five-point lead in the Premier League table.
The first half was largely an exercise in futility as neither side were able to open things up. The second half, though, was a tale of two cities in that regard. Ilkay Gundogan put his side up 1-0 in the 49th minute before Mohamed Salah evened things up thanks to a penalty (63′). City would tally on three more goals thanks to Gundogan, Raheem Sterling (76′) and Phil Foden (83').
"I really liked our performance in the first half," Liverpool manager Jurgen Klopp said after the match. "At the start of the second half, City changed system and we didn't give enough options to play and then gave the first goal away. We scored the equalizer and in that moment it looked like the game could go our way, and then we make two massive mistakes – everyone saw them. We were really down after that, it's tough to take, and then Foden scored the fourth goal with a genius situation. The performance was good most of the time. Really, really good. If we had played like this more often we would not be 10 points behind City."
Liverpool have lost three consecutive league games at Anfield for the first time since 1963.
"We showed the courage to play our football and in the end it paid off," City's Phil Foden said after the win. "Sometimes we're slow to get going and I think we were better in the second half. We definitely forced the errors, and that's something we've been working on in training."
Despite City's play as a whole, the discussion during and after the match focused on a pair of mistakes in the 73rd and 76th minutes by goalkeeper Alisson Becker.
"There's no real explanation for Alisson's errors," Klopp added. "In the first one we didn't give him many options, but the second one he just mishit the ball. Maybe he had cold feet or something. It sounds funny but it could be. Ali saved our life plenty of times, and tonight he made two mistakes – that's how it is."
Liverpool won the possession battle, 56-44, and had six corners compared to just one for City. City, however, had five shots on goal compared to just two shots off target; Liverpool had five off target and just two on target.
Manchester City now have 14 straight wins across all competitions. Only two other top-flight clubs have eclipsed that mark in the past (Preston in 1892; Arsenal in 1987).
Liverpool are back in action next week vs Leicester City while Manchester City get set to match up with Tottenham.
Leave a comment