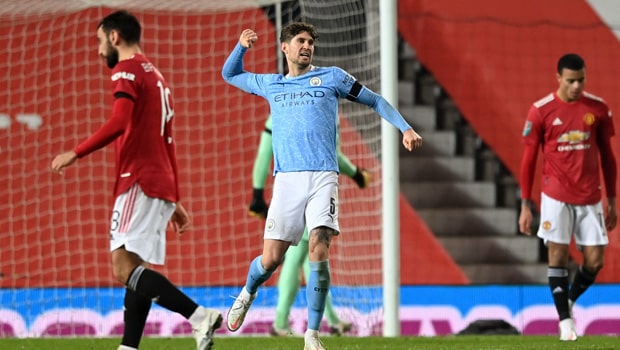 John Stones and Fernandihno both scored as Manchester City get past rivals Manchester United into the final of the Carabao Cup.
City defeated United 2-0 on Wednesday at the Old Trafford as John Stones scored his first goal for club and country in two years.
His last goal came at FIFA World Cup in Russia in 2018, but he scored just 5 minutes after the break to put Pep Guardiola's side into a deserved lead.
Both sides had two goals disallowed in the first half due to offside but City were not to be denied when Stones scored from a Phil Foden's free-kick.
It took 30 minutes later before Fernandinho found the back of the net with a volley late into the game to seal the final fixture at the Wembley.
Tottenham Hotspur had beaten Brentford 2-0 on Tuesday, and they will now face Pep Guardiola's side at the Wembley Stadium on Sunday, April 24.
It is the first time since 2011 that Jose Mourinho and Pep Guardiola will be meeting in a cup final. Both managers were handling Real Madrid and Barcelona respectively when Jose Mourinho denied Barcelona a treble by winning the Copa Del Rey.
A win for City will make them equal Liverpool's record of 4 straight League Cup wins.
Meanwhile, Ole Gunnar Solksjaer has now lost four straight semi-finals since last season as he seeks his first title as the coach of the Red Devils. He also lost a two-legged tie to City in last season's EFL Cup and also going down to Chelsea in the 2019-20 FA Cup.
United will now shift their focus to the Premier League and FA Cup, the latter most especially as they face Watford in the FA Cup on Saturday while Manchester City will play Birmingham on Sunday.
Manchester United have a better Premier League season so far as they are joint top with Liverpool level on points.
Leave a comment