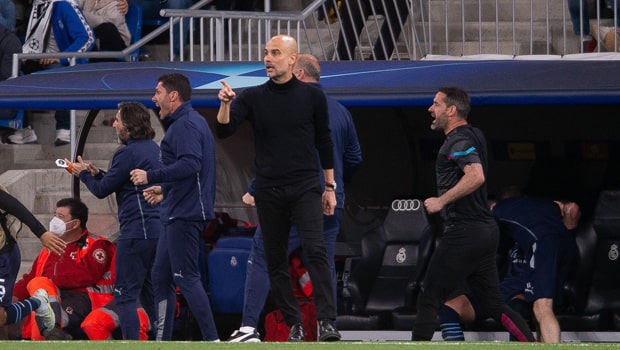 Manchester City manager Pep Guardiola has revealed that his players will need time to process their UEFA Champions League loss against Real Madrid. City was leading by 1-0 (5-3 on aggregate) when Real Madrid pulled a rabbit out of a hat to stun everyone.
Rodrygo scored in the 90th minute of the game and then once again found the back of the net after a fine assist from Dani Carvajal. Thus, Los Blancos were able to take the game into the extra time.
Subsequently, Karim Benzema scored from the penalty in the extra time to put his team's noses in front. Guardiola stated that his players are obviously disappointed after such a heart-breaking loss.
"They are sad," said Guardiola. "They were close to reaching the final of the Champions League. "We need time to process that and come back with our people at home for the last four games [in the Premier League]."
The Manchester City manager believes his team didn't have the right rhythm with them in the first half. Guardiola feels his team played well after Riyad Mahrez scored for them but admitted they weren't at their best in the last 10 minutes of the game.
"In the first half we didn't have rhythm," said Guardiola. "We were not good enough but didn't suffer much. After we scored we were better, we found our tempo, the players were comfortable.
"In the last 10 minutes you expect they attack and you suffer and it didn't happen. Then they put a lot of players in the box with [Eder] Militao, Rodrygo, Vinicius [Jr.], [Marcos] Asensio and they scored two goals.
"We didn't suffer much but we didn't play our best but it is normal in a semifinal — players feel the pressure. "We were close but football is unpredictable. Sometimes it is like this and you have to accept it."
Real Madrid will now face Liverpool in the final of the UCL at the Stade de France in Paris.
Leave a comment