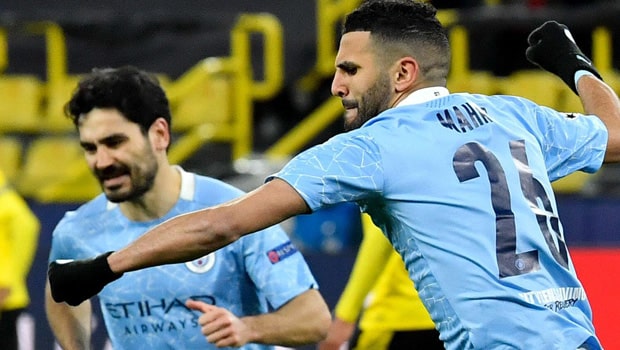 Manchester City came from behind to win 2-1 in Germany against Borussia Dortmund in the second leg of their UEFA Champions League quarter-final tie.
The Premier League table-toppers won the first leg 2-1, and they were hoping to secure their spot in the last four with at least a draw.
English midfielder Jude Bellingham scored for Dortmund in the first half to put the Germans in control on aggregate via the away goal rule.
The former Birmingham midfielder scored in the 15th minute after curling a fantastic effort from the edge of the box, which goalkeeper, Ederson, could only push into the net.
From there on, Manchester City chased the game, and they couldn't find the back of the net in the first half.
However, early into the second half, Emre Can handled the ball in the penalty box, and Riyad Mahrez converted the spot-kick in the 55th minute to level the score on the night and put Manchester City in front on aggregate.
Phil Rosen then added a second goal 20 minutes later as Manchester City turned the game on its head and won 2-1 on the night and with a 4-2 scoreline on aggregate.
The result means that Manchester City will face Paris Saint-Germain, who knocked out the Champions Bayern Munich on Tuesday on the away goal.
It is the second time that Manchester City will be appearing in the semifinals of the UEFA Champions League and their first since their first appearance at that stage of the competition in the 2015/2016 season under former manager Manuel Pellegrini, although they were eventuality knocked out by Monaco in that round.
Should Manchester City get past Paris Saint-Germain in the semi-final they could potentially meet Chelsea , who would also face Real Madrid in their own semifinals after getting past Porto 2-1 on aggregate, having lost their second-leg fixture 1-0.
Their 2-0 win from the first leg was enough to secure the semi-final spot for them, where they will face Real Madrid, who knocked out Liverpool 3-1 on aggregate after a 0-0 scoreline on Wednesday evening.
Leave a comment