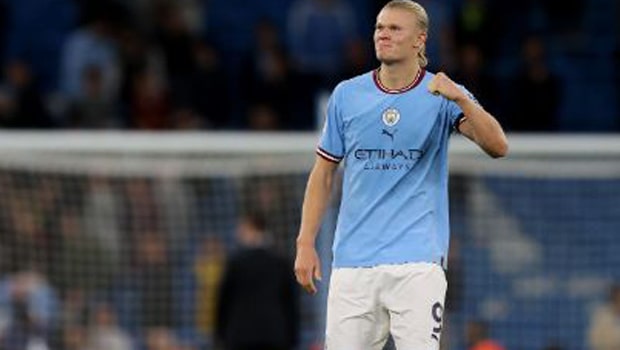 Erling Haaland, the rising star of world football at just 23 years old, has set his sights on a potentially surprising destination for the later stages of his career: Major League Soccer (MLS). In a recent interview on the "Impaulsive" podcast, alongside Logan Paul and KSI, the Norwegian striker revealed that he would consider following in the footsteps of football legend Lionel Messi, who ventured into MLS towards the twilight of his career.
Despite being in the early stages of his professional journey, Haaland hinted at a possible future in MLS. He acknowledged that while he hasn't extensively thought about it due to his youth, the idea of playing in MLS at some point in the future intrigues him. Haaland, who currently plies his trade at Manchester City, emphasized that he's a footballer, and in a decade, when he's 33, he might explore the possibility of playing in the United States.
Haaland's footballing prowess is undeniable. He clinched the prestigious 2022-23 UEFA Player of the Year Award, surpassing the likes of Lionel Messi and Kevin De Bruyne in the voting. His meteoric rise continued as he secured the Premier League MVP title last season with Manchester City. During his exceptional campaign, he not only shattered records for the most goals in a single season but also contributed significantly to Manchester City's silverware collection under the guidance of manager Pep Guardiola. It's no wonder that at just 23 years old, he has become one of Europe's most feared strikers.
While the prospect of Haaland joining MLS remains a distant one, his comments provide insight into his long-term vision for his footballing career. As he continues to make waves in the football world, fans around the globe will be eager to see how his journey unfolds and whether, in the years to come.
Leave a comment