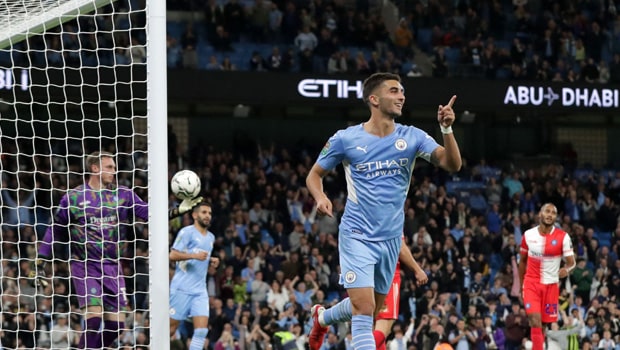 Manchester City made light work of Wycombe Wanderers in the Carabao Cup, despite fielding a string of academy players in the starting eleven.
The defending Champions went behind in the 22nd minute when Hanlan scored for the League one side.
The lead lasted seven minutes when De Bryune equalised while the Premier League champions scored two more in the first half when Mahrez scored his first of the night with 2 minutes before the break while Phil Foden also scored deep into the end of the first half.
The second half saw more dominance from City as Ferran Torres and Mahrez scored while youngster Cole Palmer added a sixth with a well taken goal late in the game.
Manchester City are unbeaten in the Carabao Cup since October 2016 and manager Pep Guardiola was appreciative of the addition from the Academy players.
"I am just going to say thank you very much to all the Academy. They have many good players, not just one or two. We can count on them absolutely. With their skills and desire, they have got it at this club. I am so proud to be manager of this club." Guardiola said.
Meanwhile, Liverpool got a comfortable victory over Norwich City after a 3-0 victory at the Anfield stadium.
Takumi Minamino scored a brace as  Divock Origi got another in a match that saw Norwich a penalty on the first half.
In other matches, Charlie Austin scored a brace as QPR and Everton played a 2-2 draw before the Rangers moved into the next round on penalties.
Watford were also knocked out by Stoke City after a 3-1 loss at Vicarage road while Brentford beat Oldham 7-0 while Burnley thrashed Rochdale 4-1 as Southampton drew 2-2 with Sheffield United but moved into the next round on penalties.
Leave a comment