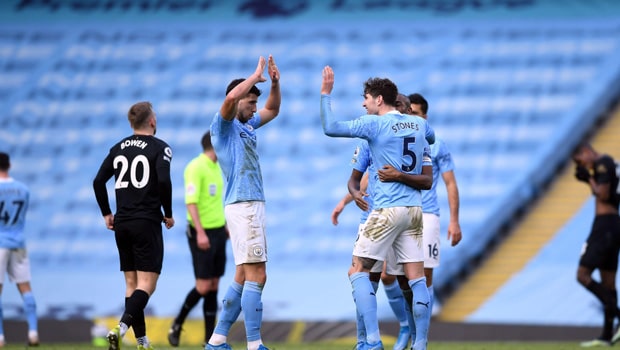 Manchester City continued to extend their lead in the Premier League table Saturday as they secured a tough 2-1 win over West Ham to move 13 points clear in the No. 1 spot. Ruben Dias started things off for City in the 30th minute before Michail Antonio evened the match at 1-1 in the 43rd minute for West Ham; John Stones' winner in the 68th minute all but wrapped things up at the Etihad.
"Their position in the table speaks for itself," Stones said after the match, speaking to how competitive the match was. "We're really satisfied, we weren't at our free-flowing football, but that's how they set up against us. Some days it doesn't come off for the forwards, and today me and Ruben chipped in. We're just glad to keep this winning run going."
City recorded their 20th win.
Following the loss, West Ham remain in the No. 4 spot of PL table, but could likely see Chelsea pass them should they win Sunday.
"After 50 minutes we knew we were not going to paint something beautiful," City manager Pep Guardiola said. "It was all about getting the three points. After the Champions League game with just two days, it's normal these kind of things happen."
City's Kevin De Bruyne sent a cross towards John Stones and Ruben Dias towards the far end of the post just as Dias rose for a header past Darren Randolph to get the first goal of the match on the board.
City dominated possession 63 percent to 37 percent, but both sides finished with 3 goals on target overall. City did have four corners compared to just two for West Ham.
"To be able to do 20 is maybe one of the greatest achievements we have done together in our careers," Guardiola added.
Leave a comment