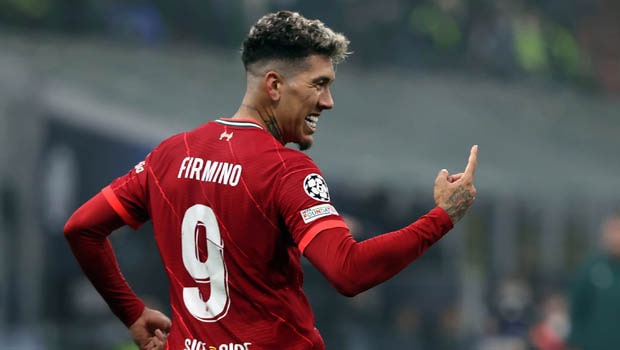 Roberto Firmino scored a beauty of a header (75') and Mohamed Salah (83′) found the back of the net on a broken play soon after as Liverpool came out on top, 2-0, at San Siro against Inter Milan in Leg 1 of the Champions League Round of 16.
"It wasn't brilliant today but it was enough to score two wonderful goals. I am really happy," Liverpool manager Jurgen Klopp said. "It was such a physical game, we had to find a way. We started really well then they came out a bit. We didn't defend their directness too well but in a game like this you have to keep the ball longer. It didn't happen often enough."
Eight of Firmino's last 12 Champions League goals have come in the knockout rounds. Firmino's last 13 league and European goals have all come away from home.
He has now scored as many Champions League goals as Ronaldinho (18).
"It [San Siro] is a difficult place to come, Inter are a very confident opponent," Klopp said. "We started well, we played good football, we didn't finish some situations."
This was Salah's 24th goal of this season in all competitions.
The late heroics from one side, however, was a change in pace as the match went 70 minutes in without a single shot on target.
Liverpool just edged out Inter in the possession battle, 53-47, with two shots on target — for two goals — compared to 0 for Inter.
"Luis Diaz is so natural when he comes on," Klopp added. "Bobby [Firmino] needed time to get into the game – then his confidence came back after the goal and the ball was our friend again!"
Klopp became just the eighth manager to win 50 games in the Champions League.
"It was tough but it is a well deserved win," Virgil Van Dijk said after the win. "We had to work hard but we knew that before the game. We knew it was going to be a battle. 2-0 away and a clean sheet is very important."
Klopp saw the team was struggling to create opportunities, and made the necessary changes. Perfect example being Firmino.
"The changes changed the dynamic of the game, the three boys played really well when they came on," Klopp said. "Confidence was there, we were calm and convinced again about the things we do. We scored a second and then game over."
The Reds will head back to host Inter at Anfield on 8 March with a lead in hand.
Leave a comment