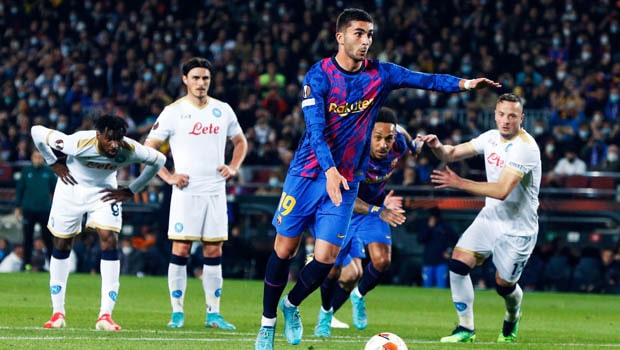 Barcelona could only manage a 1-1 draw against Napoli in the UEFA Europa League play-off match at the Camp Nou on Thursday evening.
The Catalans were playing in the competition for the first time since 2003/2004 after failing to get out of a UEFA Champions League group that had Bayern Munich, Benefica, and Dynamo Kyiv.
Napoli finished second in their own UEFA Europa League group stage that had Spartak Moscow, Leicester City, and Legia Warsaw before they were drawn with Barcelona in the playoff draws.
Pietro Zielinski put the Italians in front in the 26th minute, but summer signing for Barcelona Ferran Torres then equalized from the penalty spot in the second half. Xavi's side had a lot of chances but failed to get the elusive goal.
Earlier before the game, Barcelona manager Xavi had stated that he is furious each time he hears the UEFA Champions League anthem knowing that Barcelona will have to at least wait till next season before participating again.
Barcelona defender Gerrard Pique bemoaned the chances that the team lost but believes Barcelona can go ahead and win the trophy if they keep up the same performance.
"Our sensations are really good. We could have scored 3, 4, 5 goals even. They arrived once and scored. The worst thing about today is the result, our match was great. Our determination to come back showed. We played well, but it couldn't be. Playing like this we can win this competition," Pique said.
The second leg of the fixture will happen in Italy next week, with both sides quite aware that the away goal has been abolished.
Meanwhile, Barcelona will play Valencia in the La Liga at the weekend before the second leg, while Napoli will face Cagliari in the Italian Seria A.
Leave a comment