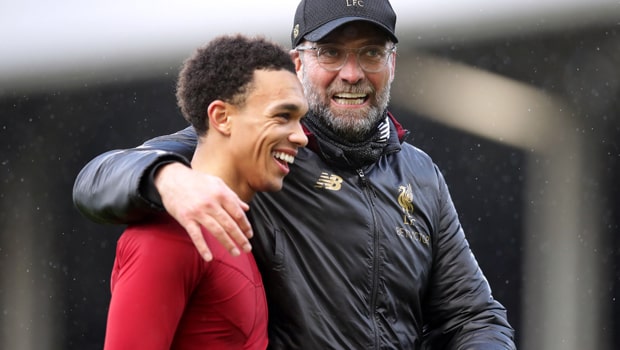 Lifelong Liverpool fan Trent Alexander-Arnold says he is determined to embrace the title race and soak up every moment of it.
The Reds moved back into top-spot on Sunday with a late 2-1 win over Fulham, taking advantage of Manchester City's FA Cup involvement to move two points clear of the champions, who now have a game in hand.
Liverpool fell short back in 2013-14 after a late-season collapse, where the then 15-year-old Alexander-Arnold was watching from the terraces as Brendan Rodgers' side suffered Premier League title heartache.
At 20-years-old he has a career in front of him but the England full-back knows not to take title contention for granted.
"It's massive," he said. "Obviously I was a fan during the 13-14 season when we came so close, so it's nice to be involved in a title race.
"You don't get to say that many times in your career.
"It's trying to embrace it, soak it all up and hopefully we'll be successful at the end of the season."
City may have to face plenty of disruption to their run-in, with one game more to play already and an FA Cup semi-final likely to lead to further readjustment to their schedule. Alexander-Arnold says it is important for Liverpool to focus only on themselves.
"I'm not even sure when their game in hand is or what the situation with the table is," he admitted.
"It's important for us to just focus on ourselves. It's a bit clichéd, but that's the main thing for us.
"Just try and be the best that we can be, and hopefully at the end of the season we'll be coming away with some silverware."
Liverpool are 3.20 to win the title this season, with champions City firm favourites at 1.33.
Leave a comment