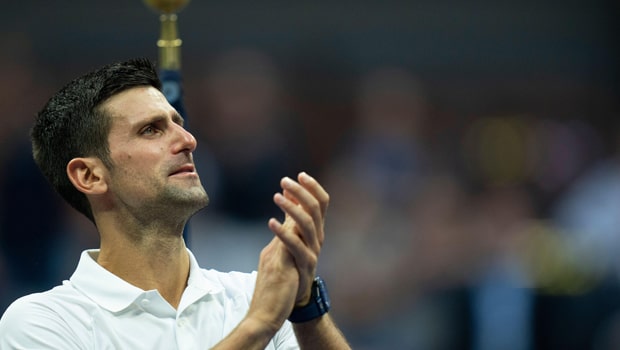 The World No.1 Novak Djokovic heaped praise on Daniil Medvedev after he lost the US Open final by 6-4, 6-4, 6-4 at the Arthur Ashe Stadium on Sunday. Djokovic was chasing history as he would have become the first player to win the Calendar slam since Rod Laver in 1969 if he had gone all the way in US Open.
However, it wasn't to be for Djokovic as Medvedev came up with his A-game. The Russian dominated the Serbian from the get-go as he broke Djokovic's in the very first game of the match.
The World no.2 dropped only a single set throughout the US Open on his way to maiden slam title. Medvedev had also recently won National Bank Open in Toronto and had come into the US Open on the back of some wins on hard courts.
Meanwhile, Djokovic had beaten Medvedev in straight sets in the Australia Open final but the Russian showed how he has improved his game since then as he took his revenge.
Djokovic lauded his opponent after the match and stated that the Russian absolutely deserved to win.
"I would like to start off by saying congratulations to Daniil [Medvedev]," Djokovic said in his post-match interview. "Amazing, amazing match. Amazing tournament. If there is anyone that deserves a Grand Slam title right now, it's you. So well done, absolutely. "You're one of the greatest guys on the tour, we get a long very well. I wish you many more Majors to follow, I'm sure you'll be on this stage in the future, for sure."
On the other hand, Djokovic received backing from the New York crowd, which he has hardly received in his glorious career. The 20-time slam champion was filled with emotions after receiving support from the crowd.
"I would like to say that tonight, even though I have not won the match, my heart is filled with joy and I'm the happiest man alive because you guys made me feel very special," Djokovic told the crowd. "You guys touched my soul. I've never felt like this in New York… I love you guys. Thank you so much for the support and everything you have done tonight for me. I love you and I'll see you soon."
Leave a comment