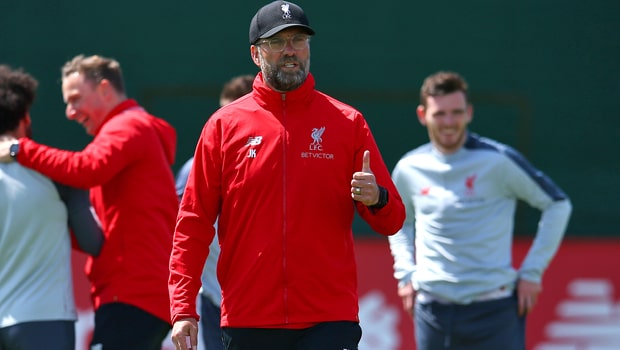 Manager Jurgen Klopp does not believe Liverpool's results against Tottenham during the season will count for anything in Saturday's Champions League final.
The Reds are set to take on Spurs in an all-Premier League encounter, mirroring the Europa League final when another team from north London, Arsenal, came up short against Chelsea on Wednesday night in Baku.
Liverpool beat Mauricio Pochettino's men 2-1 both home and away in the league but Klopp does not feel there will be anyone thinking about those two games in Madrid.
"We won both games in the league, we know that, we had a points advantage but all those things don't count," he said.
"When we think about the home game, we played a brilliant first half, but the second half was not in the same way. It's not that we were five levels above them, but that's how a final actually should be."
Spurs have had to contend with a number of injuries, especially in the latter part of the campaign but it seems as though talisman striker Harry Kane will be fit to play at Wanda Metropolitano Stadium.
That would be a massive boost for the travelling Lilywhite fans and has left Klopp scratching his head as to the players and formation that his side will face at the weekend.
"We think about Tottenham, of course, and what they do, they change systems, and they changed it in the game [at Anfield] and all that stuff," he added.
"So, maybe in three weeks from their last matchday to the final they will have another system. Who knows?"
Liverpool are priced at 1.95 to win the match, with Spurs on offer at 4.00 and the draw 3.60.
Leave a comment