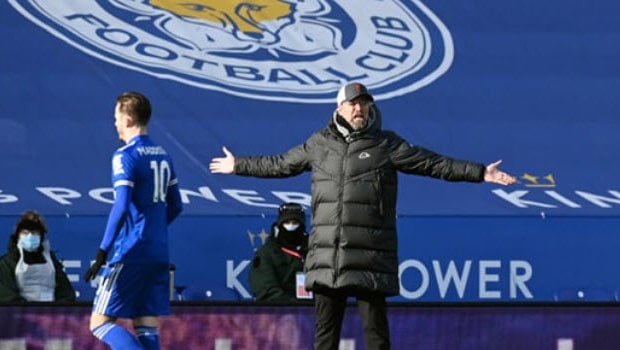 Following this weekend's 3-1 loss vs Leicester City, Liverpool manager Jurgen Klopp admitted the club's Premier League title chances are dwindling. With only two wins in their last 10 PL fixtures, the former champs are currently on the wrong end of three-straight Premier League losses.
"I don't think we can close that gap this year," Klopp said. "We have to win football games. Today was really good in parts. We have to avoid mistakes and misunderstanding.  "We have to make steps, to perform again and results are related to that. We are good enough to win it [Premier League title], for long periods, but not until the end."
What made Saturday's loss vs Leicester City even more frustrating was the fashion in which the Reds finished regulations. Three quick goals in 12 minutes to finish out the match. It's just not a recipe for success, simple as that.
"Yes. I can't believe, but yes," Klopp said when asked if Liverpool are 'conceding' the title.
The current three-match league losing streak was only topped by a roster coached by Brendan Rodgers back in 2014. Klopp had not lost back-to-back league fixtures until last week.
The Reds have played one more game than league leaders Manchester City, but are still 13 points from the top.
"We are not looking for excuses," Klopp added. "A lot of things happen. We should have done better. The only way out is to play good football, fight and work hard."
Liverpool are back in action Saturday, Feb. 20 vs Everton at Anfield.
Leave a comment