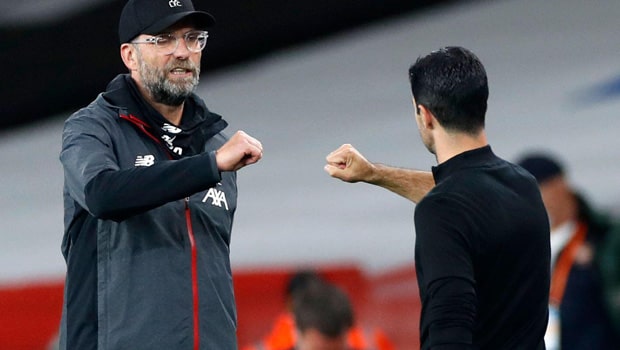 A first-half argument between managers Jurgen Klopp and Mikel Arteta seemed to catalyze the effort on the field as Liverpool soon broke through in the 39th minute with a Sadio Mane goal. Three second-half goals made it 4-0 as the Liverpool front-three all found the back of the net.
Klopp and Arteta both received yellow cards around the 33rd minute, an incident that seemed to spark some energy on the field.
"It was not the plan [for Arteta flare up to build atmosphere]," Klopp said after the match. "I try not to have arguments now, but it was not exciting until then, the crowd needed a bit of help. They pushed the team again from that."
Under Klopp, Liverpool have scored more Premier League goals against Arsenal (37) than any side has against another since October 2015.
Mohamed Salah's goal made it 11 on the season for him, keeping him the No. 1 goal scorer this season with 11 league goals. Made is No. 2 with 7.
11 goals in 12 league games for Salah. Incredible form so far in 2021.
Mane's assist for Salah was the 20th time the pair have combined for a Premier League goal.
"I've seen the biggest teams in the world come here and collapse," Arteta said. "They were better than us for 96 minutes and that's the level. They've been together for six years and you can see that."
Some fans, or rather critics, were quick to note that Arsenal's Pierre-Emerick Aubameyang has never scored or assisted against Liverpool in a Premier League game.
Arsenal (4) have conceded more Premier League goals following their own errors compared to any other club this season.
Only Norwich and Watford (7) have failed to score in more league games than Arsenal (5) this season.
"We won't be moping around with our heads down, we'll come in tomorrow and evaluate the game," Arsenal goalkeeper Aaron Ramsdale said. "Mistakes happen, we've had a 10-match unbeaten run, with 8 of those in the league so hopefully we can start another [run] like that."
Liverpool finished the match dominating the battle of possession, 63-37, with six corners won compared to just one for the Gunners.
Liverpool are back in Champions League action mid-week vs Porto before hosting Southampton at Anfield next weekend. Arsenal host Newcastle in Premier League play next week.
Leave a comment