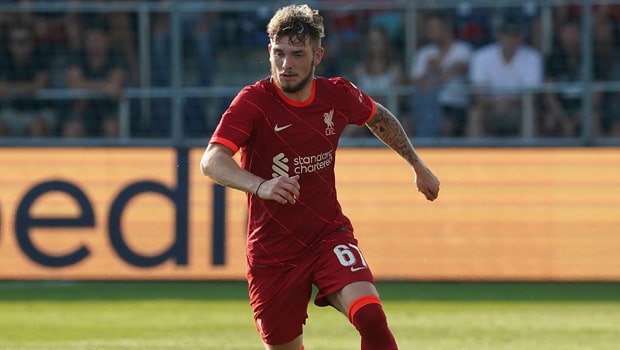 Liverpool earned three points, Mohamed Salah scored his 100th Premier League goal, but the Reds lost 18-year-old Harvey Elliot to a leg injury following a tackle by Pascal Struijk in a 3-0 victory vs Leeds United.
"All our thoughts and prayers are going to Harvey," Liverpool's Virgil Van Dijk said after the match. "Hopefully he recovers quickly and as good as possible from it. We have no idea what the diagnosis is at the moment but it looked bad. Apart from that it was a fantastic win here. A tense game. I enjoyed the atmosphere because obviously we didn't feel it for a while."
Salah scored his 100th PL goal in the 20th minute before Fabinho made it 2-0 early in the second half (50′). Sadio Mane added the third goal in the final moments (90′ + 2′).
"Everyone knew beforehand this would be an intense, hard game, with their fans behind them pushing them forward," Virgil added. "So we had to be brave, ready for the battle, and embrace the atmosphere too. A 3-0 win away, keeping a clean sheet, is something to be very happy about. There's still a sad feeling because of Harvey, but we'll see what the outcome is for him."
VAR told the referee to send Struijk off (60′), with Sky not showing replays of the injury and incident until after the match.
Salah was the first teammate by Elliott calling for medical attention, in a clear yell for immediate help.
Sky Sports did end up showing Struijk's challenge, and critics agreed he seemed to have been going for the ball, not maliciously at Elliott.
"It is a bad injury. Ankle. I heard it was dislocated, we could put it back," Liverpool's Jürgen Klopp said. "He's now in the hospital, so we have to wait. He played an incredible game, he's an incredible player. Now he's out. We have to be there and we will be there. We will play football without him, but we will wait for him as well because obviously he's a top player. I saw the situation. I could see his foot not in the right place, that's why we were all shocked, absolutely. I spoke to the referee [while Elliott was being treated] but nothing important. I'm not sure it's the right moment to speak about these kind of things."
The Liverpool FC official Twitter account posted a photograph of Elliott after the match with the statement, "We're all with you, Harvey. You'll Never Walk Alone."
"We were really good," Klopp added. "We played for a long period a top, top game. After the red card and Harvey off we lost rhythm a little bit, gave them too many counter-attacks and set pieces, but who cares in that moment. We played top football, we should have made more of the football we played. But in the end, 3-0 is a top result and we are not that greedy to stand here now and say we should have had six, seven."
Liverpool are back in action mid-week vs AC Milan in UEFA Champions League action before a matchup with Crystal Palace next weekend.
Leeds United are back in action vs Newcastle United on Friday 17 September.
Leave a comment