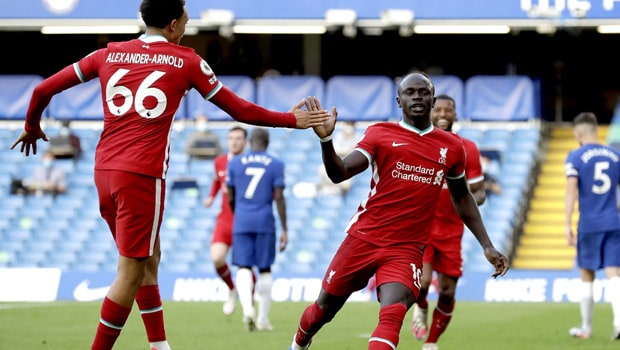 Liverpool FC got a second win from just their 2nd game of the 2020/2021 English Premier League season as they beat Chelsea 2-1 at the Stamford Bridge on Sunday.
The Reds who are the champions of the league had beaten Leeds United in their first game of the season 4-3 at the Anfield stadium before a visit to Frank Lampard's side at the Stamford Bridge on Sunday afternoon.
Sadio Mane's second-half brace gave the Jurgen Klopp's side a win that came like a gift after a poor display from the Blues.
First, it was a red card to Christensen just before half-time for bringing down Sadio Mane before the Senegalese striker put the ball home just five minutes after the break.
Four minutes later, Keeper Kepa Arrizabalaga was at fault as he lost the ball to Mane in the box as the striker tucked home into an empty net.
Italian midfielder Jorghino then capped a horrible afternoon by missing a spot-kick that could have put Chelsea back in the game. It is the Italian midfielder's first penalty loss in the Chelsea shirt in all competitions and first since November 2017 when he lost a penalty at Napoli.
There was a debut for Liverpool's new signing from Bayern Munich, Thiago Alcantara, who was a second-half substitute just days after joining the team.
In other games played during the weekend in the Premier League, Heung-Min Son scored four times in Tottenham's 5-2 win over Southampton on Sunday.
Harry Kane assisted all four before scoring a late goal of his own although Danny Ings had a brace for himself in the game for the Saints.
On Saturday, Manchester United lost 3-1 to Crystal Palace at the Old Trafford, a Donny Van De Beek consolation was not enough as Wilfred Zaha scored a brace and Andy Townsend opened the scoring with the opener.
Arsenal scored late through Eddie Nketiah as they won 2-1 against West Ham United at the Emirates Stadium. Alexander Lacazette opened the scoring for Arsenal while Antonio drew level for the Hammers before the break.
Leave a comment