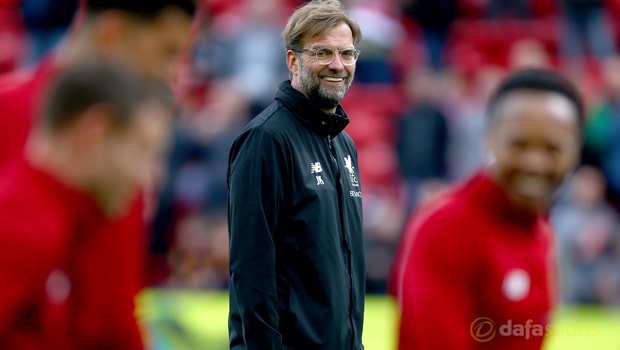 Jurgen Klopp says Liverpool must be ready to "fight for their dream" of appearing in the Champions League final when the face Roma on Wednesday.
The Reds take a 5-2 lead into the second leg in the Italian capital but Klopp insists they haven't achieved anything yet.
Roma scored two late goals at Anfield last week to resurrect their hopes in the tie after Liverpool had raced into a 5-0 lead with a dominant display.
Nothing has been won, but Klopp is content with Liverpool's position going into the second leg, despite the late blip.
"We are here to fight for our dreams – that's how it is – and we want to go to the final as you can imagine," the Liverpool boss said.
"We were very positive at Anfield, we were 5-0 up and then we conceded two and then after the game a few people had the feeling that we lost, but we didn't.
"We are still 5-2 up, meanwhile, people think Roma only need to win 3-0 but that's quite a result [to pull off]."
Roma trailed Barcelona 4-1 after their quarter-final first leg in Spain last month before a stunning 3-0 win at the Stadio Olimpico sent the Catalans packing.
For Klopp, that warning is crystal clear now and the German is eager to play some football, once all the pre-match talking has been done.
"Everybody's telling us that it's quite difficult and it's possible but nobody told Barcelona, because nobody imagined it could happen," Klopp added.
"I didn't need a warning but if I did, there it was. We're in a much better situation than I would have thought before the game, that's the truth. It's not perfect.
"Whatever I say, we still have to play, and I really like that fact. After all the things we've talked about, we still have a game."
Liverpool are 2.50 to win the second leg, with Roma 2.50 and the draw priced at 3.20.
Leave a comment