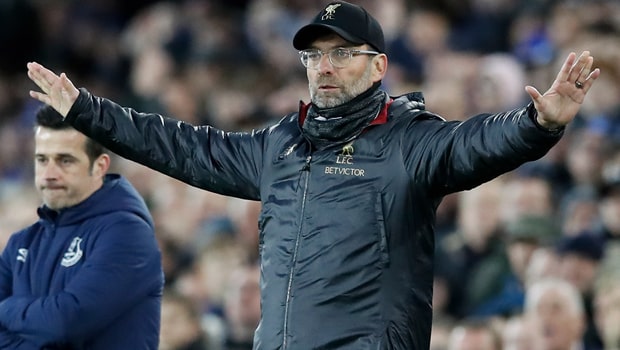 Jurgen Klopp insists he is 'completely fine' with Liverpool having to chase champions Manchester City in the Premier League title race.
The Reds were unable to reclaim top spot on Sunday as the Merseyside derby with Everton ended goalless at Goodison Park. City had leapfrogged Klopp's team with a 1-0 win at Bournemouth on Saturday.
Liverpool have been the pacesetters since pre-Christmas but falling into second isn't a major worry for their manager.
"Who wants to be top of the table at the beginning of March?" said the German.
"It is nice but there are lots of games to play. I'm completely fine with chasing."
Liverpool were seven points clear of Manchester City on New Year's Day before losing to the champions at the Etihad Stadium. A run of four draws in six games has left Klopp's side in second spot with nine games remaining.
Reds fullback Andy Robertson has backed his manager's view on the latest twist, insisting there is still plenty room for optimism, despite the Merseyside rivals scoring mini bragging rights.
"We become the chasers now and all the pressure is on Manchester City," said Robertson.
"We will fight for every last ball until the whistle is blown at the end of the season. The pressure has been on City because they are expected to retain the title.
"Everton think they have stopped us from winning the league. It shows how well we are doing that they want to stop us."
Liverpool are now 3.25 to win the title, with Man City strong favourites at 1.33 to retain their crown.
Leave a comment