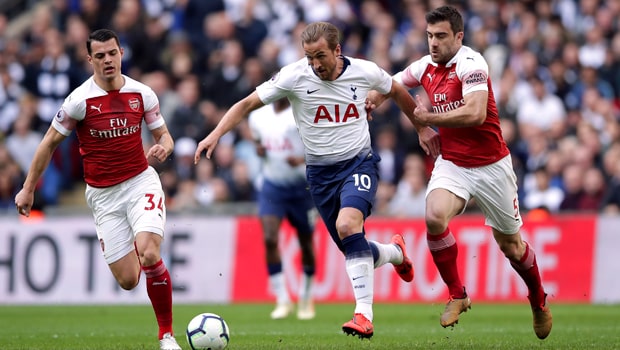 Tottenham's quest for silverware won't end until they can learn to perform at their best under pressure, according to Harry Kane.
Any hope of staying in the Premier League title race were extinguished on Saturday following a 1-1 North London derby draw with Arsenal at Wembley.
It meant one point from nine for Spurs from their three games in seven days, having lost to Burnley and Chelsea previously.
Mauricio Pochettino's side are in third place, now ten points behind leaders Manchester City with just nine games left. Skipper Kane, who levelled from the penalty spot on Saturday after Aaron Ramsey had put Arsenal ahead, admits there is a shortcoming in the Spurs side at the moment.
"We need to find a way to get it done," said England captain Kane.
"We haven't done that in recent years, we haven't done that this week and that will be the difference. That is the turning point that we need to try to achieve."
Tottenham are in Germany on Tuesday for a Champions League last-16 second leg against Borussia Dortmund, which they go into leading 3-0 from the first leg.
They have lost three domestic semi-finals in the last two seasons, while Spurs also failed to seize the Premier League crown in 2015/16 as Leicester City outlasted them down the home straight.
Pochettino recently suggested it could take five to ten years to instil the mentality in his side to challenge for the title, but Kane is hoping their journey will be shorter.
"I don't think it's far away but I think what the gaffer was saying was it's not a guarantee that if you improve you are still going to win things," he added.
"We have got to a stage in the past four or five years where we have maybe done more than we expected as a club, but it means that we have to do even more to reach that stage.
"Whether it's five years or not I can't say, but I hope it's sooner than that."
Spurs are 3.60 to win in Germany on Tuesday, with Dortmund 1.95 to land the second leg and the draw priced at 3.75.
Leave a comment