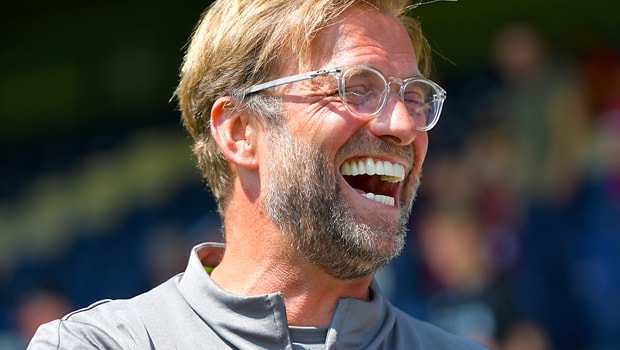 Jurgen Klopp has laughed off the suggestion from rival boss Jose Mourinho that Liverpool "have to win the Premier League" this season.
Manchester United boss Mourinho has suggested their arch-rivals are "big candidates" for the title having spent £170million on four players so far this summer.
Klopp insisted he has no interest in what goes on at other clubs, before aiming a thinly veiled barb at Mourinho's style of football.
"It's a free world and I have no problem with Jose," said Klopp.
"We are responsible for our fans, our owners and nobody else. I am not too interested in Man Utd."
Liverpool have recently spent world-record fees for £66.8m goalkeeper Alisson from Roma this month and £75m defender Virgil van Dijk from Southampton in January.
Also this summer they have recruited Guinea midfielder Naby Keita from RB Leipzig for around £50m, Brazil midfielder Fabinho from Monaco in a deal that could be worth more than £40m, and Switzerland winger Xherdan Shaqiri has come in from Stoke for £13m.
Klopp denies that his busy recruitment drive has ramped up the pressure to win Liverpool a first top-flight title since the 1989/90 season.
He also fired a thinly-veiled dig at Mourinho's pragmatic style of play, which has failed to enthuse plenty of Red Devils supporters.
Asked whether he had to win the Premier League this season, Klopp said: "I don't think so.
"Do I get the sack if not? Depends on the football we play.
"A big part of the job is to play football that our people like. It happened last year and the year before but now we want to make the next step."
Liverpool are 5.00 to win the Premier League next season while Manchester United are 7.50. Champions Man City are 1.67 to retain their crown.
Leave a comment