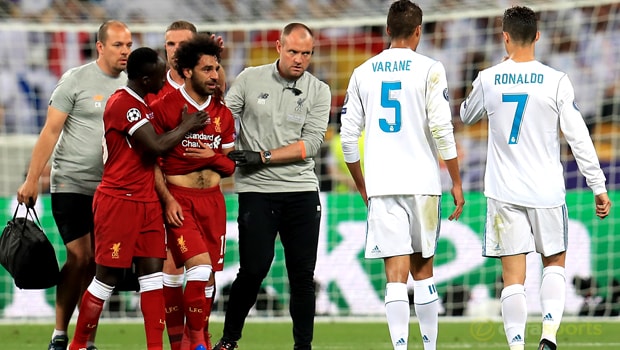 Liverpool coach Jurgen Klopp says Mohamed Salah is a major doubt for the World Cup after going off injured in the Champions League final.
The Egypt international left the field in tears after 30 minutes after landing awkwardly following a challenge from defender Sergio Ramos.
Salah signalled he had hurt his shoulder and had to come off after trying to play on.
Liverpool eventually went on to lose 3-1 after two goals from Gareth Bale and a strike from Karim Benzema and Klopp admitted the injury was as serious as it looked.
The former Roma star left Kiev in a sling and Klopp feels his injury could rule him out of the tournament in Russia this summer.
"It's a really serious injury, which is even worse. And the shock of the boys was obvious," Klopp said at full-time.
"Of course it was a big moment in the game. I know if you say something like that after a game and you lost, it sounds like you are a bit of a bad loser.
"But, for me, it was a harsh challenge – the arm was there. It was like wrestling a bit. And then Mo was a little bit unlucky falling on his shoulder.
"I think he is in the hospital for an X-ray. It's either the collarbone or the shoulder itself. But it's really not good."
While Klopp has his doubts, the Egyptian FA have claimed it is ligament damage rather than a fracture.
"During the telephone follow-up conducted by the national team delegation in Italy to check on the status of Mohammed Salah, Liverpool officials said Liverpool that X-rays were carried out on Salah's shoulder and showed that the injury was a shock in the shoulder joints," the tweet read.
"Dr. Abu Ela expressed his optimism that Salah to make the World Cup according to this diagnosis."
Egpyt are in Group A alongside Uruguay, Russia and Saudi Arabia and they are priced at 5.25 to win the group.
Leave a comment