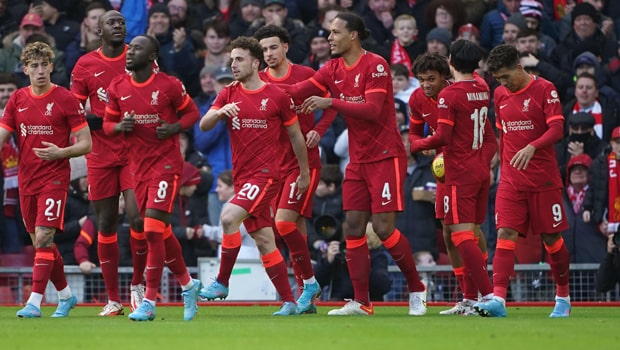 Liverpool punched a ticket to the fifth-round of the FA Cup as they eased past Championship side Cardiff on Sunday, 3-1.
Diogo Jota (53′), Takumi Minamino (68′) and Harvey Elloitt (76′) — back from injury — scored for the Premier League side; Rubin Colwill (80′) scored the only goal for Cardiff.
Luis Diaz also made his debut for Liverpool after his recent, high-profile transfer from FC Porto.
"In these games you need an opener," Liverpool manager Jürgen Klopp said. "He jumps high, he has timing and he is a very skilled boy. He has a nose for these situations."
Mohamed Salah (23) is the only Premier League player to score more goals across all competitions this season than Jota (15).
"Cup games are always hard, even when playing lower league teams and we know the magic of the FA Cup," Jota said. "It was crucial to get the first goal, it is hard to get the space against a low block and in the end we got three and are in the next stage. If it came when I had the first chance it would be better."
This is just the second time under Klopp that Liverpool will participate in the fifth round of the FA Cup. Their last appearance came in 2019-20, resulting in an away defeat against Chelsea.
"My goal wasn't too bad," Elliott said. "I have been watching Diogo Jota who has been banging them in left, right and centre and getting a few tips from him."
"He is back – he still needs time but he is still an incredible footballer," Klopp said enthusiastically about Elliott's return.
Although the result was truly never in doubt, wins like these are key momentum shifters given Liverpool are without the likes of Sadio Mane and Salah (AFCON).
"We never doubted the quality of our squad," Klopp added. "This is now the first time maybe [they're all fit]. The games are coming really thick and fast and we have to be ready for that."
The depth of talent shows.
"Taki was successful with Japan and successful for us," Klopp said about Minamino. "He played a good game and he scored a wonderful goal. He came back early. He could have stayed away longer but he wanted to come back quicker."
Liverpool absolutely dominated the possession battle 8-20, finishing with five shots on target compared to two for Cardiff. The Championship-side also finished with eight more fouls called against them than did Liverpool.
"Really proud of them," Cardiff manager Steve Morrison said after the match. "We conceded a set piece and then it was two really poor goals to give them the other two, so coming away from Anfield frustrated that we've given them three poor goals from our point of view is still tough. First half I thought we did well, had a couple of moments, could have had a pen. And then we had the moment right at the start of the second half. I personally think my striker's got to get there first and go round him and put the ball in the back of the net. I'm really proud of them, but we've lost to three poor goals."
Cardiff City, sitting 20th in Championship, will play Peterborough on Wednesday (9 February).
Liverpool, currently in second place in the Premier League table, are back in league action against Leicester City on Thursday (10 February). They are also back in UEFA Champions League action this month, matching up against Inter Milan in Leg 1 of 2 of the Round of 16 (16 February).
Leave a comment