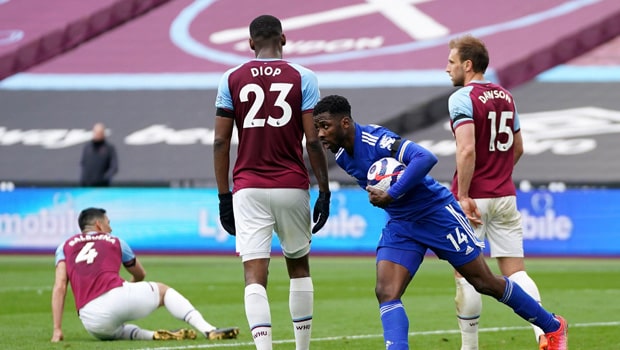 Jesse Lingard continued his on-field production as he netted the ball twice on Sunday to help West Ham secure a 3-2 win over Leicester City. West Ham are now in fourth place ahead of Liverpool and Chelsea, but remain a point behind Leicester in the No. 3 spot.
"It's not about me, it's about West Ham and the players," West Ham manager David Moyes said when asked whether finishing in the top four would be his biggest achievement.
Jesse Lingard became just the third player to score in four consecutive Premier League games for a team led by Moyes.
Iheacnacho scored twice late (70′, 90+1) to equal his best goalscoring tally for Leicester City.
"I'm not happy with the way it finished," Moyes added about the last twenty minutes of the match that saw Leicester score two late goals. "It's bugging me! It was great today for about 60 minutes."
Leicester continues to get little production in terms of goal scoring from Jamie Vardy who has just scored once since mid-December 2020. Just one goal in his last 18 matches. Two goals in the last 19 matches.
Leicester, despite remaining in the third spot after the loss, are just two points ahead of Chelsea, and one point ahead of West Ham. Not a secure lead, given their recent trends.
West Ham are back in league action against against Newcastle on 17 April, while Leicester City get set for back-to-back matches (22 April, 26 April) against West Brom and Crystal Palace.
Leave a comment