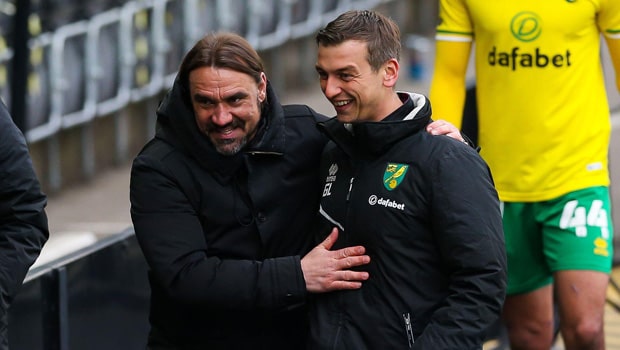 Norwich City cruised to a 1-0 victory over Derby County Saturday making this side the first roster in club history to win 14 road matches in a season. Kieran Dowell's free-kick was the sole goal in the win for the Canaries.
Norwich controlled much of the first half as they saw a left-footed free kick from Kieran Dowell into the top corner from the right edge after a foul on Craig Forsyth. Derby looked to be lost defensively in the first 45 minutes.
"I'm delighted for Kieran," Norwich City head coach Daniel Farke had said in the pre-match press conference, coincidentally. "He is full of potential. He's done well to come back from his injury – he works very hard on the pitch with his pressing and movement. He's also delivering with end product with goals and assists. But there's still periods in the game that he can improve and we are working with him on these points."
Farke has now led the side to road victories at 24 of 26 sides Norwich City has faced, with the losses coming vs Watford and the Wolves.
"I was buzzing," Dowell said. "I have not scored a free kick in a while, so it was nice. I practice them a lot, so it is nice when it pays off in a game."
Norwich dominated possession, 61-39, but had just one more shot on target compared to Derby. Derby, however, had nine more fouls called against them compared to Norwich.
"Skipp (Oliver Skipp) and Kenny (McLean) were brilliant at keeping the attacks alive and recycling the ball when we lost it," Dowell added. "So they are great to play in front of and it gives us a license to go and express ourselves. The whole back four and Tim (Krul) were also so solid and deserved their clean sheet today."
Norwich are truly now on the cusp of a promotion to the Premier League.
Leave a comment