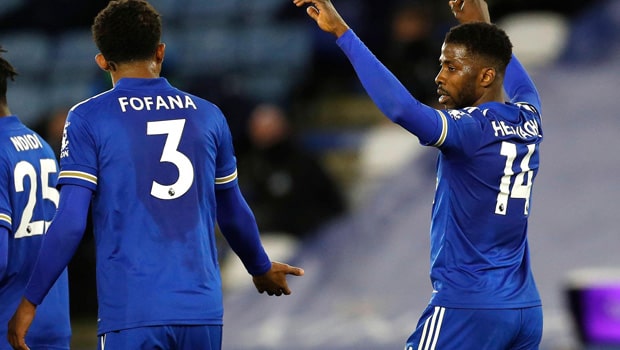 Leicester City look a bit more stable in the top four of the Premier League table following Thursday's 3-0 win over West Bromwich at King Power Stadium. The hosts raced out to an early first half three-goal lead behind scores from Jamie Vardy, Jonny Evans and Kelechi Iheanacho.
City are now in the No. 3 spot with 59 points on the board; four points ahead of Chelsea, seven back of Manchester United.
Iheanacho became just the 6th Nigerian international to score 30+ Premier League goals after Yakubu (95), Kanu (54), Efan Ekoku (52), Shola Ameobi (43) and Peter Odemwingie (36).
Ịheanachọ has now scored 11 goals in his last eight games in all competitions for Leicester.
Leicester had 12 attempts in the first half of Thursday's match, the most in Premier League competition since they had 15 in the first half of a 9-0 win vs Southampton in 2019.
Leicester dominated possession 73-27, with a total of seven shots on goal vs just one for West Brom. West Brom had just one shot from inside the box, and even that came in the 83rd minute. Lopsided fixture, to say the least.
Head coach Brendan Rodgers happily welcomed back James Maddison to the lineup. 72 minutes played, 100% dribble and tackle success, four chances created, four duels won and two shots. Coach, players, and fans alike are happy to have him back and looking sharp.
Leicester City are back in action 26 April vs Crystal Palace; West Brom face Aston Villa 25 April.
Leave a comment