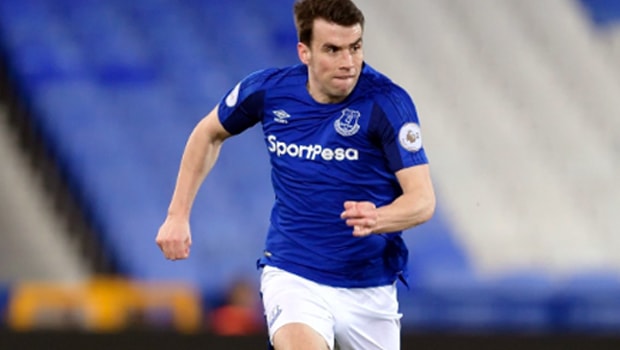 Seamus Coleman says he will do everything in his power to inspire stricken Everton teammate James McCarthy in the coming weeks.
Coleman broke his leg in two places last March in the Republic of Ireland's World Cup qualifier against Wales in Dublin.
This week he returned to competitive action for the first time with a 58-minute cameo for the Toffees Under-23 team.
His club and international teammate McCarthy is staring down the same long road to recovery after suffering a double break while making a block in the recent 1-1 draw with West Bromwich Albion.
Coleman admitted it was 'heartbreaking' to see his friend suffer the same fate, and the full-back was one of the first to comfort McCarthy pitchside when his injury occurred.
The Ireland captain says he will try to show his teammate that the recovery will be a complete one.
"James will be back from it. I want to go out there every week and do as well as I possibly can to show James that he will be back and he will be fine," said Coleman.
"Every time I step out at Goodison or at training I will be doing all I can to be as good as I can be so that he can watch Match of the Day or whatever and see that there is a way back. I have no doubt James will be okay."
Coleman admits that what McCarthy, 27, is going through right now is the most difficult time for a player but he urged him to keep the faith having successfully undergone surgery.
"I have just worked hard every day and fully believed that I will be back out there. If your mind is strong then you have no doubts," he added.
"You have to keep that belief and I know James will. The first days and weeks aren't the best and there will be a little bit of pain."
Everton are 3.00 to beat Leicester at Goodison in their next Premier League game on Wednesday. The Foxes are 2.60 while the draw is 3.20.
Leave a comment