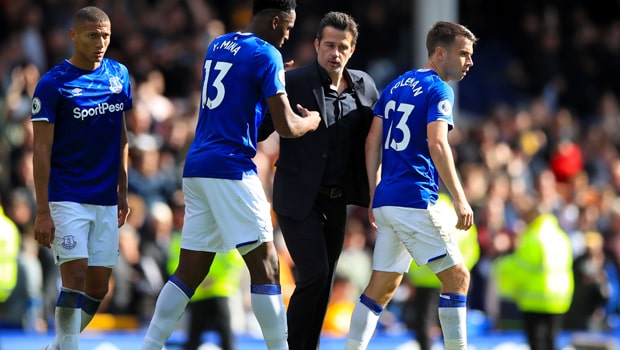 The blue team of Liverpool has been deemed the dark horse of the Premier League for many years, but the results are yet to come. A reign of David Moyes as a boss saw the side challenge the bigger and richer clubs on the top of the table, but yet the best result was fourth in 2004/2005. Since then the worst they've done is 11th and for the past three seasons they've been seventh and twice eight. Start of this season, the second under the guidance of Marco Silva, has been the worst so far as Everton currently stand 16th in the Premier League.
Marco Silva was introduced to English football arriving from Olympiacos in 2017 to manage Hull City for the latter part of the season. Watford then quickly snatched up the promising manager right at the end of that season and Silva's attacking and attractive football was welcomed at Watford. But the results quickly turned sour and his time in Watford only lasted only until 2018.
Everton picked up Silva after Sam Allardyce had done his duty in bringing Everton to another 8th place. It was expected that Silva was the right man to take Everton one step further and at least reach the continental qualification. So far that has not happened. Despite bringing in a plethora of players and spending some £200M in the transfer market, the team is hanging back in the 16th position in the Premier League. Latest game against newly promoted Norwich ended in a disastrous 0-2 defeat.
The numbers look bad for Everton. They've only scored 13 goals in as many games, conceding 20 in the process. They've lost to the likes of Norwich and Brighton adding their total losses to seven early on. The best goal-scorers so far have been Richarlison and Dominic Calvert-Lewin, both with three goals. If anything, Everton looks like a relegation candidate at the moment.
Silva and his troops still have time to turn the tables, but any transfer activity is during the January window is very unlikely. With the investments already made into the team, Silva should be able to get better results. At least he should bring Everton back to where they were, in the top 10. The job doesn't get any easier the next round, when Everton is visiting Leicester City, who have pretty much taken Everton's place as the top challenger of the big six.
Leave a comment