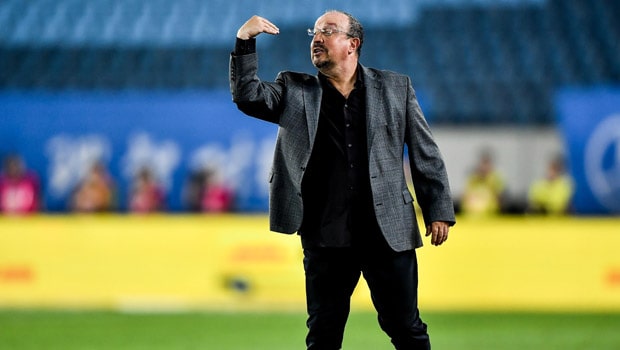 Reports indicate Everton and Rafael Benitez are on the cusp of agreeing to a three-year deal that would make him the club's newest manager.
Discussions have been ongoing for weeks now, with a three-year deal for the 61-year-old finally being completed according to The Athletic.
Premier League fans may recall Benitez from his time with Liverpool where he spent six years as manager.
He led them to a Champions League win and is well regarded in the league, and specifically at Anfield. He did manage Chelsea and Newcastle United as well after that span.
Surprisingly enough, there was a situation earlier in the week where a threat was pointed towards Benitez via a banner left near his home. "We know where you live. Don't sign," the banner read.
Police are investigating further.
"This message has understandably caused some distress and worry for residents in the area," Detective Inspector Darren Taylor said. "Due to the football language used, we suspect that it was aimed at Rafa Benitez – but whoever placed the message left it outside the wrong house. If anyone has information about who produced the banner or helped to put it up, please let us know as soon as possible."
Everton was surprised to see Carlo Ancelotti leave for Real Madrid earlier in June, with the likes of Graham Potter and Nuno Espirito Santo being tied to Everton as well.
Benitez now joins William Edward Barclay as the only managers to cross the city line and work with both clubs.
Benitez' most recent spell was spent in the Chinese Super League before leaving Dalian Professional in January 2021.
Leave a comment