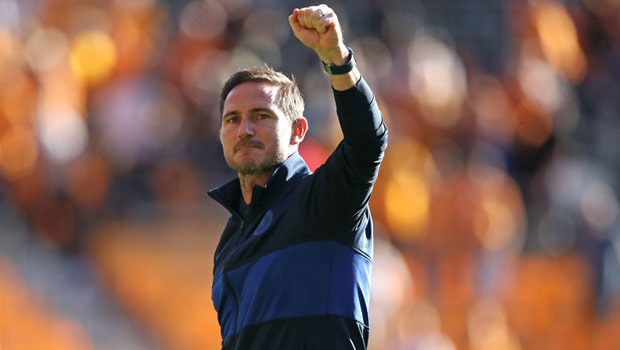 After leading the rumor mill in the last week or so, the former Chelsea and Derby boss Frank Lampard is set to be Everton's newest manager. Everton's club reportedly also interviewed Duncan Ferguson and Vitor Pereira, but all signs indicate Lampard will succeed Rafa Benitez.
Lampard was last managing a Premier League team with Chelsea before they went different ways in January 2021. Chelsea was ninth in the league at the time.
Prior to this year-and-a-half with Chelsea, where he did lead them to an FA Cup final and a top four-finish — Lampard also spent a season at Derby.
Lampard, with Derby, managed 57 games for 26 wins, 15 draws and 16 losses. With Chelsea, it was 84 games, 44 wins, 15 draws and 25 losses.
He's now set to take over a club that sits No. 16 in the Premier League table, with just four points separating them from the relegation zone.
Everton have just one win and three draws in their last 14 matches.
Lampard actually  played under both Rafa Benitez and Carlo Ancelotti; he would be the first Everton manager to play under his two immediate predecessors since Billy Bingham, who played for both Harry Catterick and Johnny Carey.
According to a report from The Telegraph, Lampard may look to bring back some of fellow coaches from Chelsea.
"Frank Lampard is not expected to meet resistance from his former club Chelsea if he tries to appoint Joe Edwards and Anthony Barry to his Everton backroom staff," the report read. "Lampard is believed to have informed Everton that he would like Edwards and Barry, who were both part of his Chelsea staff, to join him at Goodison Park."
Contract negotiations are reportedly happening rapidly with this season's transfer window coming to a close soon as well.
"The other problem Frank Lampard has got if he does become the Everton manager is the transfer window is about to close," Kaveh Solhekol of Sky Sports News said. "It closes on Monday, he hardly has any time to sign any players. Everton need reinforcements, especially in midfield. Is he going to have any time or has he been told that players are coming in the next 72 hours? So make no mistake, a massive job for Frank Lampard if, as looks likely, he does become the next Everton manager."
In parallel to the Lampard to Everton rumors heating up — to the point where media and fans alike are now just waiting on the contract details — Everton have also been connected to Manchester United over a loan move for Donny van de Beek.
Quite the weekend for Everton so far, even if just talk at this point.
Leave a comment