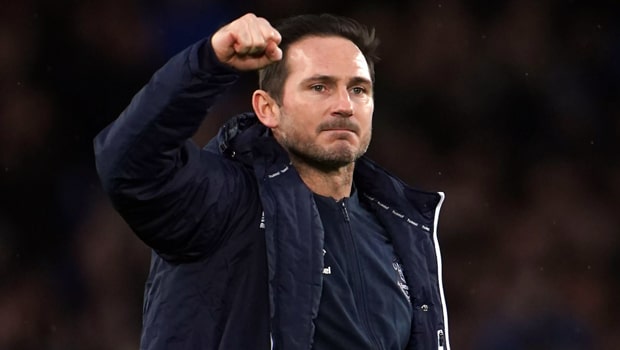 The Frank Lampard era as Everton's new manager started off on the right foot as they took down Brentford 4-1 at Goodison Park in the fourth round FA Cup.
Everton got goals from Yerry Mina, Richarlison, Mason Holgate and Andros Townsend. Ivan Toney scored Brentford's only goal.
"I can only thank the fans for their support of me from the moment I walked out and of course at the end, seeing the team perform the way it did," Lampard said. "It's a day I'll never forget, it was very special, and I can't help but get caught up in the emotion of that for the moment."
The fans chanted Lampard's name in the second half of Saturday's win. Underrated, but key factor given the match was 2-1 for Everton with 35 minutes remaining to play.
"We all hear about the Goodison effect and I've felt it on the other side and we wanted to produce that today and the players did," Lampard said.
The 'Super Frank, super Frankie Lampard, chants started in the 65th minute.
"I wanted us to have more possession and support each other better in possession," Lampard added. "We are an Everton team and we must also be aggressive, and that was the base today."
The entirety of the match maintained the physicality expected from two Premier League clubs in this stage of the FA Cup. Everton were just the aggressive more often than not.
Dele Alli and Donny van de Beek, Everton's newest additions at the transfer deadline, were introduced to the home crowd at the break.
They were ineligible to play in this weekend's FA Cup fixture, but should be available for the mid-week Premier League matchup on the road against Newcastle.
Everton won the possession battle 56-44, with five shots on target compared to just one for Brentford.
"I think when you lose 4-1 you can't argue, it's a fair defeat," Brentford head coach Thomas Frank said. "I do think it was never a 4-1 defeat."
The opposition did have six corners vs four for the home side.
"First half they created nothing, we created nothing and then they scored a goal from a set-piece and we should never concede that one," Frank added. "Second half we adjusted things and then they score after three minutes. We had a good spell, make it 2-1 and then we concede another set-piece. The big disappointing thing is we conceded two set-piece goals."
Brentford, currently 14th in the Premier League, are back in league action on Wednesday (9 February) against Manchester City.
Everton have a busy week ahead, with the Newcastle fixture on Tuesday (8 February) followed by a home fixture against Leeds United the Saturday after (12 February).
Leave a comment