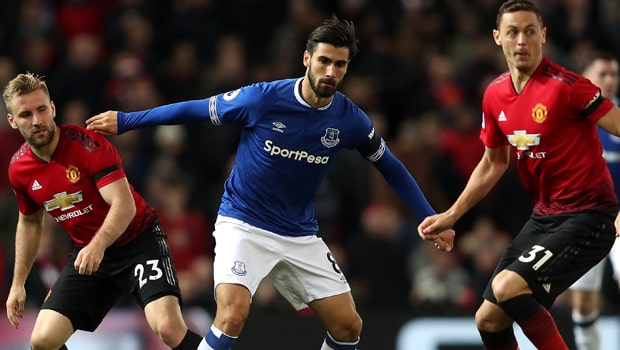 Andre Gomes admits he is enjoying life at Everton but he is unsure whether his loan move from Barcelona will be made permanent during the summer.
The Portugal international arrived at Goodison Park on deadline day, but he missed the opening two months of the campaign due to the hamstring he picked up with Barcelona during pre-season.
The 25-year-old eventually made his Toffees debut during last month's 2-0 victory over Crystal Palace in the Premier League and he produced another accomplished performance during the 2-1 defeat at Manchester United last time out.
Gomes has now confirmed he has settled into life at Everton quickly, despite his injury issues, although at this stage he is unsure whether his loan move will be made permanent at the end of the season.
When asked if he would like to make his loan move permanent, Gomes told Sky Sports: "We need to discuss that at the end of the season of course with Everton, with Barcelona and see if Everton are happy with me. That is really important."
Gomes was one of four players to arrive at Everton on deadline day and that has raised expectations among the club's supporters this season.
Everton have won three of their last four games and currently sit ninth in the standings, but Gomes is realistic about his side's hopes for the season, as he feels it will be difficult for them to break into the top six.
"Everton fans want to hear yes [for a top six finish] but I want to be calm," he added.
"I think we should enjoy every game until the end of the season.
"We are confident that we can do really good things but we also know the big rivals at the top are difficult to beat."
Leave a comment