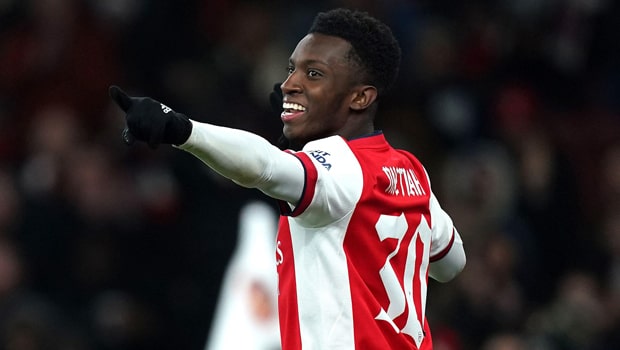 Arsenal youngster Eddie Nketiah has shown his eagerness to feature more times for the Gunners this season after scoring a hat-trick in Arsenal's 5-1 win against Sunderland in the Carabao Cup on Tuesday at the Emirates.
The English forward was featuring in his third Carabao Cup game this season and was on form as he scored his third, fourth and fifth goals of the competition as Arsenal raided the League One team.
He scored the first goal of the game in the 17th minute of the game before Nicolas Pepe made it 2-0 ten minutes later. Broadhead pulled one back for Sunderland in the 31st minute. Nketiah scored his second and third goals of the game in the 49th minute and 58th minute of the game.
Arsenal gave 18-year-old Charlie Patino his debut, and he then got his professional goal with an injury-time strike for Arsenal's fifth at Emirates Stadium.
Meanwhile, hat-trick hero Eddie Nketiah explained that he is happy to see Arsenal move to the next round of the competition while stating that he is ready to pay more for the emirates-based side even in the Premier League, explaining that he will give his all for the North London side.
"I just had to be in the right place. I'm happy we can go to the next round and get a few goals. We could have played a lot better in the first half but we improved in the second half and more goals came. It was a great team display. I'm desperate to play football. All I can do is keep working hard. I'm just eager to play football. That's my main ambition. As long as I play for Arsenal I'll give my all." Nketiah said.
Leave a comment