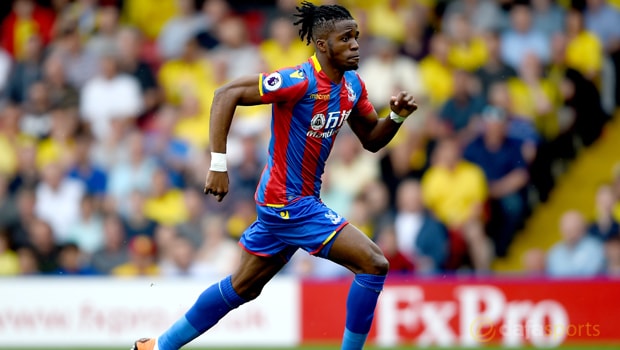 Crystal Palace manager Roy Hodgson has leapt to the defence of talisman Wilfried Zaha, amid claims the winger goes down too easily.
Zaha has defended himself after receiving a yellow card for diving in last Saturday's goalless draw at Watford, insisting he has been unfairly labelled.
Zaha has earned four yellow cards for simulation since the start of the 2015-16 season – more than any other player in that period.
According to former England boss Hodgson, his style of play makes him similar to the likes of Eden Hazard and Dele Alli and leaves him open to fouls – and criticism. But the Palace boss wouldn't change any aspect of Zaha's play.
"Players with that level of dribbling ability and that bravery to go in constantly and take people on in the penalty box and risk the fouls and risk the kicks are worth their weight in gold," Hodgson said.
Zaha has been instrumental in Palace's bid for survival this season and they are clearly a more potent weapon when he is in their team. Hodgson doesn't have any concerns over his player being 'honest'.
"I have no doubts in my own mind about him as a player and his honesty and desire to score goals and play the game properly," Hodgson said.
"He's a great runner with the ball, he's very brave, he takes people on and he goes into areas where there are bodies and it hurts players to go in.
"As a result those players, unfortunately, are always the ones who get accused of cheating because they get fouled and people want to discuss 'was it a foul or was it not a foul?'."
Crystal Palace are 2.10 favourites to beat Leicester on Saturday and take a giant step towards Premier League safety, with Zaha 2.50 to score against the Foxes.
Leave a comment