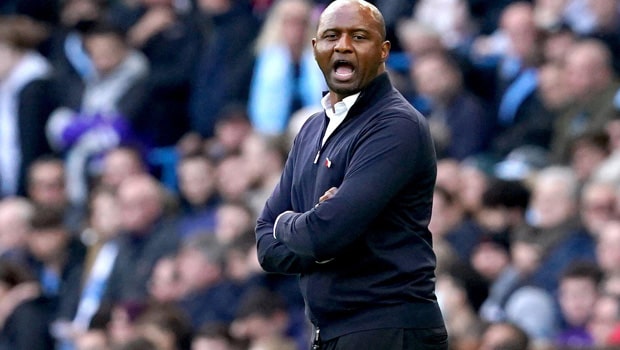 Crystal Palace took down 10-man Manchester City on the road at the Etihad on Saturday at Pep Guardiola's 200th match as City's boss.
Palace scored early with Wilfried Zaha finding the back of the net after just six minutes before a red card for Aymeric Laporte later (45'+2′) made the deficit an even bigger mountain to climb.
"If you manage to defend well, you'll get opportunities," Zaha said of the win immediately after. "We know how good they are, we wanted to show them what we could do. "I scuffed it but a goal is a goal. I was just buzzing to see it go in so I was happy. Conor Gallagher brings a lot of energy and I needed people to link up with and it makes a mass difference when he helps out."
That goal marked his 50th career Premier League goal for Zaha.
"Happy to get my 50th goal today. Amazing performance from the team today to get the deserved win," Zaha added via Twitter after the win.
Zaha is now the first player to hit 50 top-flight goals for Crystal Palace.
The result means City do lost some ground on Chelsea and second-place Liverpool in the league title race.
"We conceded the first goal and we weren't able to score a goal but after that we really good and for 25-30 minutes of the second we were good," Guardiola said. "But when you play 50 minutes 10 against 11, it is difficult for a team like us because you need the process and to do everything right. The players showed character and tried, but unfortunately many, many things went wrong and we lost the game."
Palace move up to No. 13 in the Premier League standings as Guardiola made sure to praise the opposition's defensive efforts.
"Good strong defense, three midfielders defending and winning duels, winning the ball, blocks and then using the counter with Zaha up front and with fast players," Guardiola said. "It's always tough because of that reason. They have very good players. When they get the ball, they keep it and want to play. I said after the Brighton game to prepare mentally straight away because it would be very difficult."
As far as the red card and Laporte being sent off, Guardiola mentioned it was a point to discuss, but not the main factor in the final result.
"Could be yellow card, could be red it depends on the decision of the boss, the referee […] unfortunately today, many, many things went wrong and we lost the game," he said.
City played with 10-men in the second half.
City won battle of possession 67-33, but both sides finished with 3 shots on target; City had 7 corners compared to just 1 for Palace.
Conor Gallagher connected on a late goal (88′) to put seal the result.
Crystal Palace look to build on this win with a marquee matchup next weekend vs Wolverhampton. City have a bit more hectic of a schedule in the next week, with a mid-week UEFA Champions League fixture vs Club Burgge, before a PL match vs Manchester United next Saturday (6 November).
Leave a comment