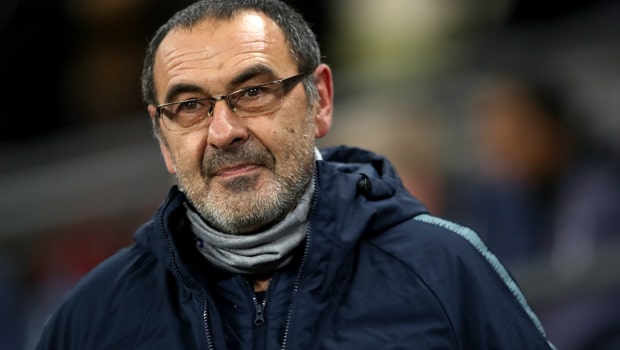 Chelsea boss Maurizio Sarri feels referees in England are not ready to implement VAR technology yet.
The Blues boss was left irate after Tottenham were awarded a penalty in their 1-0 Carabao Cup semi-final first leg win over his team at Wembley.
Skipper Harry Kane appeared offside in the lead-up but, after consulting VAR, the spot kick was awarded. An initial offside decision was overturned by VAR as replays seemed to show Kane was onside, although Chelsea were able to provide their own camera angle that suggested he was fractionally off.
Sarri suggests officials need to study the system even more before attempting to implement it.
"I saw the video from our camera a few minutes ago, it was offside. Our camera was in line with Kane, and it was offside, but it's not important," he said.
"With the head, it's offside. But it's not important. It was important that the linesman stopped the run, he didn't follow the ball, so he had a big influence on our defenders, and at the moment I think the English referees aren't able to use the system."
Kane's spot-kick proved the difference in a feisty London derby, earning Spurs a slender advantage for the return at Stamford Bridge on January 24.
According to Sarri, the fact that VAR is not being used in the Premier League supports the theory that officials are not yet to be trusted with it.
"In Italy there is VAR, in the first period it was a disaster, difficult for the referee to use the system.
At the moment here the refs are not ready to use it in the right way. Kane was offside, clearly offside, but it is not important," he added.
"They need to study better the system. It is very strange in the Premier League there is not this system and then in Carabao Cup there is." Chelsea are now 5.50 to win the Carabao Cup, while Spurs are 3.75.
Leave a comment