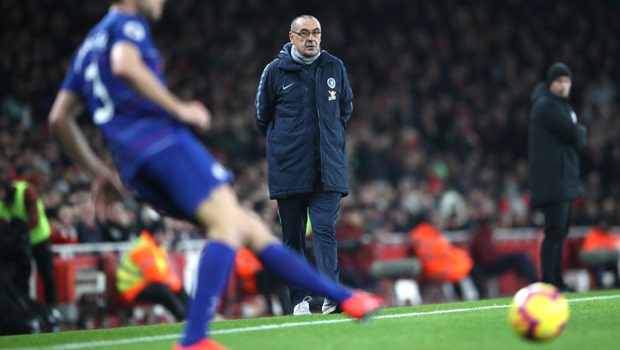 The current Chelsea players are 'difficult to motivate', according to manager Maurizio Sarri. The Italian launched a scathing attack on his Blues squad following their 2-0 loss at Arsenal on Saturday.
It is sure to cause plenty of speculation on Sarri's Stamford Bridge future as he will need to get a response from his men having questioned their desire.
Fourth-placed Chelsea have only won two of their past five matches and are now just three points clear of the Gunners and Manchester United, their nearest pursuers for a top-four finish.
They managed only one shot on target in 90 minutes at the Emirates as Unai Emery got a boost with goals from Alexandre Lacazette and Laurent Koscielny in the first half. Afterwards, the Chelsea boss pulled no punches when assessing his teams' effort.
"I'm really angry about the approach that we adopted today," Sarri said.
"It's an approach we can't really accept." Sarri told a remarkable press conference he wanted to speak in his native Italian rather than English "because I want to send a message to my players and I want my message to be very clear".
Through an interpreter, he went on to outline the questionable attitude he witnessed from Chelsea in their latest London derby loss. "I have to say, I'm extremely angry. Very angry indeed," he went on.
"This defeat was due to our mentality, more than anything else. This is something I can't accept. "This group of players are extremely difficult to motivate."
Chelsea are 1.40 to finish in the top four this season, with Arsenal now 4.33 and Manchester United 2.63 in what potentially could be a three-way shootout for one spot.
Leave a comment