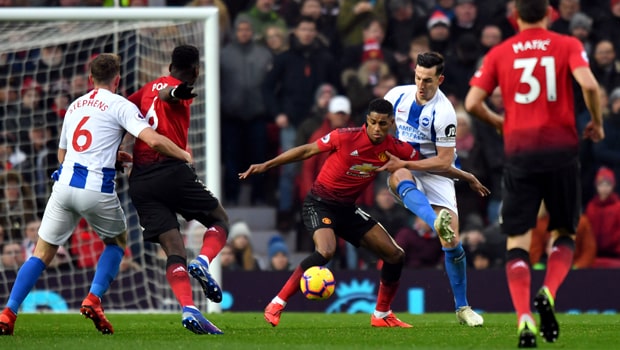 Ole Gunnar Solskjaer feels hard work is behind Marcus Rashford's recent goalscoring form. The England forward has scored four goals in four games after netting Manchester United's second in a 2-1 home win over Brighton on Saturday.
It means Solskjaer has won seven games on the bounce since taking over from Jose Mourinho in December. Both Rashford and fellow goalscorer Paul Pogba have flourished since the Norwegian took over.
The United boss says he attributes Rashford's upturn to sheer hard work, while he also revealed he told the 21-year-old to have confidence in his own finishing ability.
"That was the first thing I said to him when I met him. He had missed some chances and I said 'no problem, you'll be all right, just settle down a little bit'," Solskjaer said.
"He has been top class. You start with work rate. He has that, works like no one else, runs channels, holds the ball up.
"He has now calmed down in front of goal and he's very assured and is practising all the time. His technique and also his mind-set. Now he's confident."
Solskjaer is just the third manager in Premier League history to win his first six games in charge of a club, after Carlo Ancelotti with Chelsea and Pep Guardiola with Manchester City.
He insists there are areas United can improve on, but he is clearly enjoying his time in the Old Trafford dugout, whether or not that extends beyond next summer or not.
"I can't complain can I? I am just smiling and this is one of these things I will remember for the rest of my life," he added.
"It's just been a month, it's been a rollercoaster and it's class to be here.
"I don't think you can ever get calm at Old Trafford or Manchester United because you always look for the improvement, to get better, and we know that we can play better."
Manchester United are now just three points behind Chelsea in fourth and the Red Devils are 2.63 to achieve a top-four finish this season under Solskjaer's steer.
Leave a comment