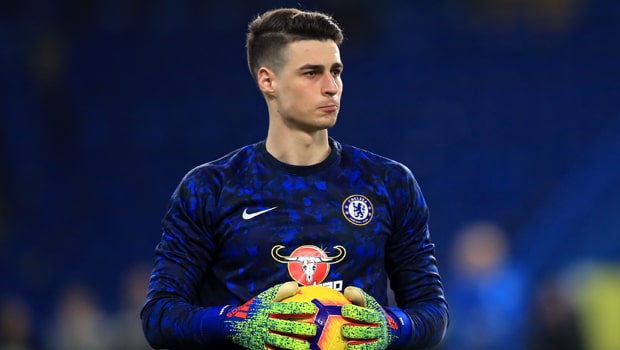 Chelsea goalkeeper Kepa Arrizabalaga has been backed to learn from the events of the League Cup final and come back stronger.
Willy Caballero had been ready to replace his team-mate in the Chelsea net at Wembley but Arrizabalaga refused to come off.
Blues boss Maurizio Sarri responded by starting Caballero for the midweek victory over Tottenham but the Argentine said he had chatted with his fellow keeper and is sure he will return stronger for the experience.
He told reporters: "I think he learned lot from what happened, we learned a lot as a team and as a club. Sometimes these things push players apart, but in this case we are more together than ever.
"The good result of this is we have found a lot of people near to him to help him. We trained very well the next day to prepare for the game.
"The boss decided to put me in the goal and he (Arrizabalaga) was supporting me in the warm-up, so I think we are in good harmony. As keepers we must support each other."
The result at Stamford Bridge in midweek kept Chelsea in the hunt for a top-four place in the Premier League.
They sit sixth in the table, having been overtaken recently by Arsenal and Manchester United but are just three points behind the Gunners in fourth.
The win over Spurs followed a disappointing run of three losses in four league games, suffering a 4-0 defeat at Bournemouth and a 6-0 hammering at Manchester City.
They are back in action at Fulham on Sunday and are 1.53 for the win with the Cottagers 6.00 and the draw 4.33. Chelsea are 1.91 to finish in the top four this season with Arsenal 3.00.
Leave a comment